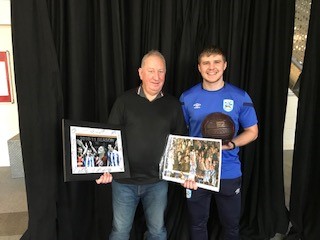 12 Dec

THE HUDDERSFIELD TOWN FOUNDATION LAUNCH SECOND SPORTING MEMORIES SESSION AT CLAREMONT HOUSE CARE HOME!

On Friday 6 December, The Huddersfield Town Foundation launched their second Sporting Memories session at Claremont House Care Home in Heckmondwike.

Foundation staff will deliver monthly sessions to residents of Claremont House, to include a range of discussion topics that will aim to inspire sporting reminiscence.

At the first session, residents were asked about their favourite sports, the sports they liked to play at school and their sporting idols. These questions were designed to help residents familiarise themselves with the coaches and each other.

Sessions also include an element of physical activity, through seated exercises including boccia, kurling and other multi-skills games. These add gentle competition to the day, through which residents can encourage one another.

Since launching their flagship session in October 2019 at the Brian Jackson House, Huddersfield, the Town Foundation's mission has been to engage as many individuals as possible to take part in Sporting Memories. Claremont House is the first care home to get on board with residential delivery of the programme.

The Town Foundation's Health Manager, Ben Quinn commented:

"We know that for the people we are trying target with these sessions, complex needs can lead to accessibility issues.

As such, we are taking these sessions to those who cannot get to us, either due to restrictions in transport or support.

Claremont House's Activity Coordinator will hopefully undergo Sporting Memories training in early 2020, so that the programme becomes self-sustainable to Claremont House."

Since October, The Town Foundation's flagship session at the Brian Jackson House has developed from just five to around 20 participants a week.

At this session, discussions have progressed from participants sharing in their sporting memorabilia, to trying different activities such as tennis, golf and boxing. Music has also been introduced to sessions and in future weeks, the group plan to host a music quiz and sing alongs.

One participant, commented:

"I look forward to Sporting Memories every week. It gives me the chance to get out and speak about events that I've been to and relive those moments."

The Town Foundation's Sporting Memories sessions are designed for individuals affected by dementia, depression, loneliness or social isolation. Sessions run every Monday between 10:30 and 12:30 at the Brian Jackson House, Huddersfield, HD1 5JP.

The Town Foundation's Sporting Memories sessions are jointly funded by the Premier League Charitable Fund, Professional Footballer's Association and local not-for-profit social enterprise, Locala who provide a variety of community health care services to people in Kirklees, Calderdale and Bradford.

For further information or to get involved, contact Ben Quinn at Ben.quinn@htafcfoundation.com or at 01484 503 773.