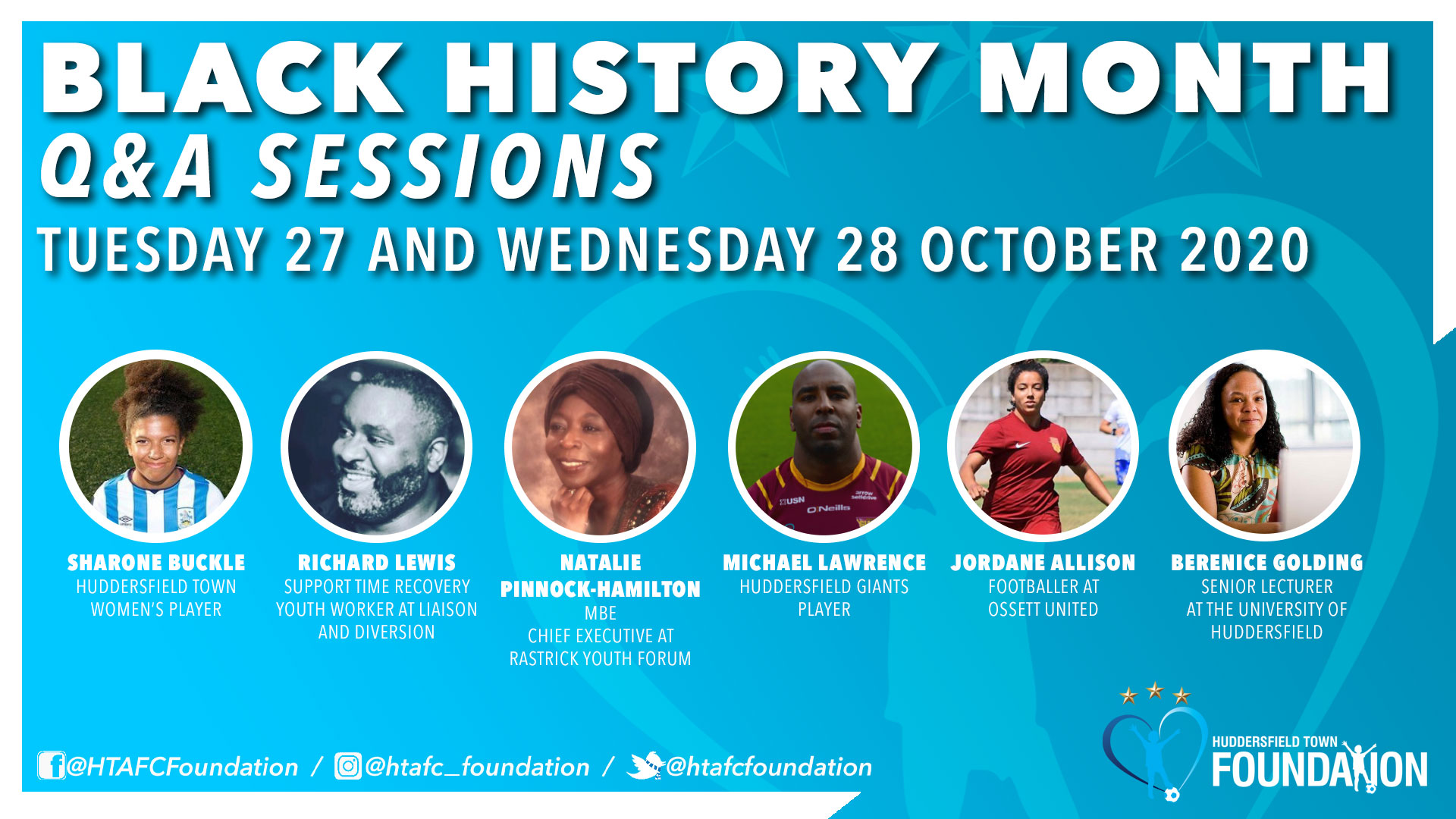 21 Oct

JOIN THE TOWN FOUNDATION FOR SPECIAL Q&A SERIES WITH LOCAL GUESTS!

As part of Black History Month, the Huddersfield Town Foundation is delighted to be hosting two online Q&A sessions with local guests!

Taking place on Zoom, the webinars provide an opportunity to gain an insight into the lives of local role models and learn more about their experiences of black history.

Joining us on the webinars will be guests from a variety of backgrounds, including professional sports and education.

Following the initial Q&A element between the guests and Town Foundation staff, attendees will be encouraged to ask questions of their own, making it a fully interactive session.

Tuesday's talk will see Michael Lawrence, Natalie Pinnock-Hamilton MBE, Berenice Golding, Richard Lewis, Jordane Allison and a participant of the Town Foundation's Premier League Kicks programme discuss their experiences.

Michael Lawrence is a back rower for the Huddersfield Giants Rugby League team, who has played for his hometown club for 12 years and last year represented Jamaica for the first time.

Natalie Pinnock-Hamilton MBE, who is the Chief Executive of Rastrick Youth Forum, was awarded her MBE for services to community relations in 1999 and has vast experience in social care.

Berenice Golding is a senior Lecturer at the University of Huddersfield who leads their Health and Community Development course. Berenice also chairs Huddersfield Town's external Equality, Diversity & Inclusion advisory group.

Richard Lewis works as a support time recovery youth worker at Liaison and Diversion, which is an NHS department. He runs a support group looking to empower young people locally, with a particular focus on eradicating gang and knife crime.

Ossett United midfielder Jordane Allison will join the webinar to discuss her experiences playing football and in her professional life, where she works as a UK Trading Controller.

The Wednesday session will also see Huddersfield Town Women defender Sharone Buckle talk to the panellists. Sharone is a teacher at Immanuel College in Bradford and has completed a bachelor's and master's degree.

Both webinars are free to attend. To book you place, please follow the links below:

Tuesday 27 October 2020, 6.30-7.30pm

Wednesday 28 October 2020, 3.00-4.00pm

Everybody who attends at least one of the sessions will be entered into a prize draw to win a signed Huddersfield Town football.

If you would like any more information, please contact Sofie Armitage on sofie.armitage@htafcfoundation.com or 07741 671 071 in the first instance.