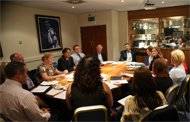 18 Sep

Breakfast Club Gets Off The Ground

An historic meeting took place in the Huddersfield Town Boardroom last week – the inaugural get-together of the 'Early Kick-Off' Breakfast Club steering group.

The first official initiative of the Huddersfield Town Foundation, 'Early Kick Off' is an exciting scheme that will ensure the young people of Huddersfield and the wider community start their day in the right way – with a healthy breakfast!

Scheduled to start next month, 'Early Kick-Off' aims to provide kids in the Kirklees administrative area with a complimentary healthy breakfast for a full school year. Initially 'Early Kick-Off' will directly benefit 50 pupils at six specially selected primary schools throughout the full 39 week academic year, but if more than the initial £30,000 cost of that project is raised through the Foundation even more kids could benefit!

The Huddersfield Town Foundation has joined forces with several club partners to make 'Early Kick-Off' possible. Food wholesalers Total Foodservice has used its extensive network of contacts to supply the healthy and nutritious breakfasts together for the kids – food such as fruits, vegetables, grains, dairy products and other protein-rich foods – and the Huddersfield Town Foundation will deliver it to the schools across the region, completely free of charge. One of those suppliers – Caterers Choice – was also present at the meeting.

Club Partner Kirklees College were also at the steering group meeting, as they are offering teachers and parents complimentary NVQ courses in food preparation and hygiene to ensure they know the best ways of ensuring their pupils benefit.

Representatives from a breakfast club already running in the area, along with two of the Food and Beverages team from Kirklees Council, were on hand to lend practical advice on best practise.

Other stakeholders in 'Early Kick-Off' include Club Partner Stafflex, which is exploring the possibility of providing staff for the Breakfast Clubs, whilst kids' education provider Kidpremiership is also lending its expertise at marketing to younger age categories as part of the steering group.

Huddersfield Town Foundation Trustee Sean Jarvis is delighted with the momentum behind the new initiative:

"It was fantastic to get so many people with a wide variety of expertise in one room to discuss how we take the 'Early Kick-Off' breakfast clubs forward and I'd like to thank everyone for their time.

"The basic ethos behind the Huddersfield Town Foundation is to 'do the right thing' and 'Early Kick-Off' will be a shining example of what we can achieve by harnessing the Huddersfield Town brand, as well as the skills and knowledge of our partners.

"I'm genuinely excited about this project getting off the floor and we've had a lot of support from our local community – but we will always welcome more!"

If you like 'Early Kick-Off' and want to contribute, please click HERE to make a donation.