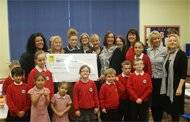 18 Nov

Early Kick-off Gets Premier Support

The latest Huddersfield Town Foundation 'Early Kick-Off' breakfast club has gained support from a famous former pupil as it launched on Monday morning.

Sunderland striker Fraizer Campbell is a former pupil of Lowerhouses Junior School and has kindly donated £1,200 towards the Town Foundation's latest breakfast club, which was attended by over 20 kids on its first Monday in action.

Unfortunately Fraizer's training commitments at the Stadium of Light prevented him from attending the breakfast club in person, but the cheque was gratefully received by the kids on the morning.

The Town Foundation's Corporate Fundraising Officer Mandy Barwick was in attendance at Lowerhouses and commented:

"On behalf of the Town Foundation I'd like to thank Fraizer for his very generous donation to the 'Early Kick-Off' breakfast club at Lowerhouses.

"That particular school is close to his heart as a former pupil and his donation will directly enable the charity to provide free, healthy, nutritious breakfasts to the kids, which allows them to start their day in the right way.

"It was fantastic to see the pupils of Lowerhouses enjoying their breakfast so much on Monday and I'd like to thank everyone who has made a donation, as well as all our partners, for helping us to make the difference in this way."

Several other club staff, accompanied by representatives from Foundation supporters One17 Design, Total Foodservice, Stafflex, Kirklees College and Kirklees Catering Services were also on hand to help the terrific staff running the club at Lowerhouses Junior School.

Initially 'Early Kick-Off' will directly benefit around 50 pupils at each of five specially selected primary schools throughout the full 39 week 2012/13 academic year, made possible by generous donations to the Foundation charity and thanks to several Huddersfield Town Club Partners.

Huddersfield Town has joined forces with Total Foodservice, Kirklees College, Kirklees Council, Kid Premiership, Caterers Choice and Stafflex to make 'Early Kick-Off' possible. Food wholesalers Total Foodservice and Caterers Choice have used their extensive network of contacts to supply the healthy and nutritious breakfast together for the kids and Huddersfield Town will deliver it to the schools across the region, completely free of charge.

It is then up to the schools and its volunteers to make the breakfasts, but the Foundation's help doesn't end there; Club Partner and leading education provider Kirklees College is offering teachers and parents complimentary NVQ courses in food preparation and hygiene to make sure they know the best ways of ensuring their pupils benefit.

The final breakfast club in the initial stage will launch soon at Rawthorpe Junior School.

Click HERE to donate to the Foundation now!