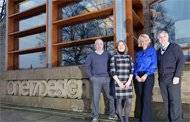 01 Jan

One 17 Supports Town Foundation

One 17 Design has today become the latest local company to pledge a substantial regular donation to the Huddersfield Town Foundation.

Town Foundation Trustee Caroline Lee is also Education Coordinator for One 17 Design and alongside One 17 Design partners Mark Lee and Stuart Beaumont she met up with Corporate Fundraising Officer Mandy Taylor at their offices in Armitage Bridge to formally announce the donation.

Mandy explained the importance of One 17 Design's pledge:

"It's particularly encouraging to see companies backing the Town Foundation financially at this crucial stage, as we are on the verge of expanding our 'Early Kick-Off' breakfast programme to a further three local primary schools over February and March.

"This will mean that our charity is 'making a difference' in the lives of over 300 local children every morning by serving a healthy, nutritious breakfast – enabling them to start the day in the right away ahead of their school day.

"One 17 Design has been an active supporter of the Town Foundation since its inception; in particular Caroline's skills, knowledge and experience have been invaluable in delivering our first major project, the Early Kick Off Breakfast Clubs.

"I hope more companies can pledge a donation to us and help us improve the lives of youngsters in our community."

One 17 Design is the umbrella title for the group of companies which work both collaboratively and individually to provide a full range of services to clients in construction, design, education and related fields. A staunch champion of community work, it also run its own charitable trust. For full info on One 17 Design, please visit www.one17design.com.

This news follows hot on the heels of last week's announcement that Orchard Group is also committing a regular donation to the Foundation.

If your business would like to make a donation – one-off or regular – to the Town Foundation, please email Mandy Taylor on mandy.taylor@htafc.com.