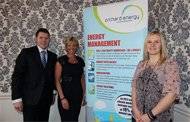 01 Jan

Orchard Group Backs Town Foundation

Club Partner Orchard Group has pledged a significant monthly donation to the Huddersfield Town Foundation to fund its important work in the local community.

The money from Orchard Group, which comprises Orchard Energy, Orchard Environmental and Orchard Networks, will go towards the delivery of vital projects that can make a difference in the local Kirklees community, such as the current 'Early Kick-Off' breakfast clubs – serving breakfasts to primary school pupils in some of the neediest areas of West Yorkshire every morning.

The Town Foundation's Corporate Fundraising Officer Mandy Taylor thanked Orchard Group for its donation:

"On behalf of the Town Foundation I would like to thank the Orchard Group for pledging a regular, generous donation to the Town Foundation.

"Orchard Group is an organisation with its community at heart and they have seen what a difference our charity, which was only formed in the summer, is already making.

"However, without financial support like this we cannot carry out our important work. We have plans to expand the 'Early Kick-Off' breakfast clubs to five new schools during the first quarter of 2013 and support like this regular donation from the Orchard Group will allow us to do this – especially as our Trustee, Dean Hoyle, has pledged to match any donation pound for pound."

Gareth Henderson, Managing Director of The Orchard Group, said the company was proud to be one of the Town Foundation's latest corporate sponsors.

"The Foundation is doing great work to improve the quality of life for young people in our region with initiatives such as the Early Kick Off breakfast clubs in local schools," he said.

"Orchard is delighted to be backing such an inspiring cause and is looking forward to supporting the expansion of Early Kick Off in 2013 to bring healthy breakfasts to even more Kirklees children at the start of each school day."

For full information on the Town Foundation, visit www.htafcfoundation.com.

If your business would like to make a donation – one-off or regular – to the Town Foundation, please email Mandy Taylor on mandy.taylor@htafc.com.