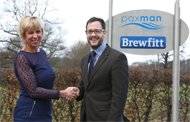 01 Feb

Brewfitt Supports The Foundation

As part of its Christmas campaign Brewfitt has kindly donated £500 to the Huddersfield Town Foundation to fund its important work in the community.

The contribution will go towards the delivery of vital projects that can make a difference in the local Kirklees community, such as the current 'Early Kick-Off' breakfast clubs – serving breakfasts to primary school pupils in some of the neediest areas of West Yorkshire every morning.

James Paxman, Operations Director at Brewfitt, said: "We are delighted to help such an inspiring cause; we as a business understand the importance of healthy eating and lifestyles. The Foundation is doing great work to improve the quality of life for young people in our region with initiatives such as the Early Kick Off breakfast clubs in local schools. We look forward to continuing to support the Foundation in the future."

Town Foundation Corporate Fundraising Officer Many Taylor commented: "We are delighted that Brewfitt has kindly pledged to our Charity. The 'Early Kick-Off' breakfast club scheme is expanding rapidly and is reaching more local children; Brewfitt's donation will help us continue to serve healthy, nutritious breakfasts every morning.

"I hope more companies can pledge a donation to us and help us improve the lives of youngsters in our community."

Brewfitt is the UK's number one drinks dispense provider and is at the forefront of the latest technological developments within the industry.

The company's history dates back to the 1950s when the beer cooler was invented by Eric Paxman, the father of Brewfitt's current Chairman. It has been Celli's sole UK distributor for over fifteen years and for over half a century Brewfitt has been a thriving, hardworking family business.

The first official project of the Foundation, the 'Early Kick-Off' Breakfast Club, has already launched across the region. The Foundation has joined forces with several organisations such as Total Foodservice, Kirklees College, Kirklees Council, Caterer's Choice, Stafflex and Kids Premiership to supply schools in the football club's heartland with a free breakfast and NVQ level food hygiene training support.

'Early Kick-Off' aims to provide thousands of free breakfasts so that an initial five schools can feed their pupils every morning – completely free of charge. This equates to over 50,000 free breakfasts for local youngsters in our region – and that number will grow if the Foundation receives further donations.

If you want to make a donation to the Foundation please click HERE!