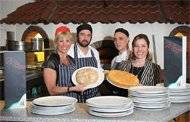 01 Feb

Da Sandro Donates To Town Foundation

Da Sandro's Ristorante and Pizzeria has kindly pledged a donation of over £1,000 to the Town Foundation to help with its work with youngsters across our community.

The long established Birchencliffe restaurant is affiliated with Huddersfield Town Club Partner Continental Wine and Food as well as Brighouse restaurant Prego, all of which are very active and dedicated to community work in Huddersfield.

As such, the Town Foundation's 'Early Kick-Off' Breakfast Club – which has already provided over 7,000 nutritious breakfasts to primary school pupils across the region – particularly appealed to the restaurant and prompted them to make their donation.

Owners Sandro Bevilacqua and Lidia Shinwell joined Head Chef Franco Zoppi and the Town Foundation's Corporate Fundraising Officer Mandy Taylor to celebrate the donation in style at Da Sandro!

Lidia explained:

"Sandro heard about the Town Foundation's Early Kick-Off Breakfast Clubs and after a discussion, we both agreed it was a fantastic initiative and that we wanted to get involved with Da Sandro's.

"We think it is a practical way of helping the children in our area to benefit from a hot and nutritious breakfast, which is the best way to start their day. In this way they will have the correct nutrients to assist them in their learning, physical activity and play, forming the correct foundations for life.

"We're absolutely delighted to be involved in supporting this project and we would like to commend Dean Hoyle for his generous support and all the people involved making the breakfast clubs work."

The Town Foundation's Mandy Taylor added:

"Even before this donation to the Town Foundation, I'm well aware of Lidia and John Shinwell, Sandro and the rest of the Da Sandro's team as they are very active in their community; they share our goal of 'making a difference' in their area.

"We are delighted they have made this very generous pledge to our charity, as it will help us to expand the 'Early Kick-Off' breakfast clubs over the coming months – adding to the 300 local children already receiving a healthy, nutritious breakfast every morning.

"I hope more companies can pledge a donation to us and help us improve the lives of youngsters in our community."

This news follows hot on the heels of last week's announcement that the Orchard Group and One 17 Design are committing regular donations to the Foundation.

If your business would like to make a donation – one-off or regular – to the Town Foundation, please email Mandy Taylor on mandy.taylor@htafc.com.