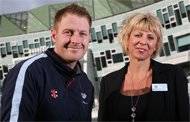 18 Feb

Yorkshire Star A Foundation Patron

Yorkshire County Cricket Club Captain Andrew Gale has today become the second Patron of the Town Foundation – the charity that aims to improve the life of youngsters across the Huddersfield and Kirklees region.

Dewsbury-born Gale's appointment as a Patron follows hot on the heels of the news that Olympic Gold Medallist Ed Clancy's

A registered charity, the Foundation is the vision of Huddersfield Town Chairman, Dean Hoyle and aims to use the power of Huddersfield Town and football as a way to engage with youngsters across the region to improve the lives of the young people that need it the most.

Gale today explained his reasons behind getting involved with the Town Foundation:

"Huddersfield Town is very close to my heart and when I found out they were starting the Town Foundation I jumped at the chance to help. I believe that every young person should be given a fair opportunity to their lives and the Foundation offers the help for this to happen."

The first official project of the Foundation, the 'Early Kick-Off' Breakfast Club, has already launched across the region. The Foundation has joined forces with several organisations such as Total Foodservice, Kirklees College, Kirklees Council, Caterer's Choice, Stafflex and Kids Premiership to supply schools in the football club's heartland with a free breakfast and NVQ level food hygiene training support.

'Early Kick-Off' aims to provide thousands of free breakfasts so that an initial five schools can feed their pupils every morning – completely free of charge. This equates to over 50,000 free breakfasts for local youngsters in our region – and that number will grow if the Foundation receives further donations.

If you want to make a donation to the Foundation please click HERE!