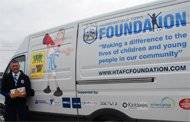 01 Mar

Nor Co Get Foundation On The Road

Club Partner Northern Commercials has helped the Town Foundation deliver its first major project – the 'Early Kick-Off' breakfast clubs – providing expert help and guidance in the purchase of a new delivery van.

The registered charity has worked very closely with, and been guided through the purchase of special refrigerated van from the Brighouse-based Iveco and Fiat van and truck dealership, whose name appears on the back of the First Team's shirts this season.

Town Foundation employee Dev Wilcox is pictured with the van, which he uses to deliver nutritious food to the charity's seven breakfast clubs throughout the week.

Dev quoted: "Having been directly involved with the delivery of this service, I can say first hand that the response has been positively over-whelming with many grateful comments coming from parents, children and teachers alike. One particular child said to me one snowy morning 'Are you the man who brings my porridge ? I like having porridge it warms me up – thank-you Mister!'. Its comments like that what makes this all worthwhile because in my experience children speak their mind regardless of the situation."

A freezer section helps to keep the food in perfect condition at the back, whilst a cool section is accessible via the side door.

Northern Commercials has even added a special touch to the van – a private number plate including the letters HTF for Huddersfield Town Foundation.

The Town Foundation's Corporate Fundraising Officer Mandy Taylor today thanked Northern Commercials for its support.

"Northern Commercials' expert services have been a major factor in our ability to recently expand the 'Early Kick-Off' project to more schools in our region. Prior to taking delivery of the new van we were incredibly fortunate to benefit from the use of a van, and indeed a driver initially, from Club and Charity Partners Total Food Service.

"The van is specially designed for food deliveries, which makes it practically perfect for use, but it also looks tremendous as it is adorned by the logos of many of the charity's supporters – as well as a giant cartoon version of our very own Andy Booth!

"It is support like this that has allowed the Town Foundation to make the difference since its launch back in September and I would like to thank Roger and the team at Northern Commercials for their support. We've now served over 8,000 healthy and nutritious breakfasts to children in our area and thanks to the van, that will only grow."

Town's Kit Man Van, driven by Kit Manager Andy Brook, was also provided by Northern Commercials – click HERE for full info.