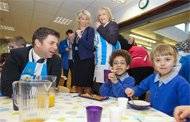 01 Mar

Town Backs Schools Breakfast Week

The Town Foundation launched its seventh 'Early Kick-Off' Breakfast Club at Ashbrow Junior & Infant School on Monday, kicking off National Schools Breakfast Week with a bang!

The latest in a growing number of breakfast club run by the registered charity, around 80 Ashbrow students started their learning day in the right way – with a healthy and nutritious meal.

As well as a myriad of charity personnel including Club Ambassador Andy Booth, Mike Gore of Club Partner Blue Apple Training and Brian Pinder of Caterers Choice also dropped into the school to help serve breakfast.

Boothy also handed out match tickets to this weekend's npower Championship home tie with Charlton Athletic, which has been dubbed the 'Town Foundation Game'.

Dora Plant, Head Teacher at Ashbrow Junior and Infant School, commented:

"Everyone involved in the Early Kick-Off Breakfast Club helped to create a wonderful, happy family feel.

"At Ashbrow as many of our children wouldn't naturally be fortunate enough to have such a relaxed start to their day and I know being well fed will have made a difference to concentration levels too; our children will have left the dining room much more ready to learn.

"Thanks too for the match tickets – the children are thrilled to bits!"

Mandy Taylor, the Town Foundation's Corporate Fundraising Officer, added:

"I believe Monday's Breakfast Club launch was the biggest yet in terms of the number of pupils attending and to hear that Dora and the team are so pleased with its immediate impact is fantastic.

"The Early Kick-Off Breakfast Clubs have been very successful since their launch three months ago and we're very excited that the support we have garnered in the area has allowed us to expand the project to four new schools, one of which was Ashbrow.

"I believe we truly are 'making the difference' in our area and I would like to thank everyone who has played a part in making this possible."

Made possible by generous donations to the Foundation from individuals as well as several Huddersfield Town Club Partners, 'Early Kick-Off' initially launched in November 2012 at five specially selected primary schools, followed by Spring Grove on Tuesday 26 March.

Further launches at Ethos College and Chickenley Community School are planned in the coming months, which will take the total number of 'Early Kick-Off' Breakfast Clubs to nine.