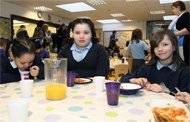 01 Apr

Foundation Serves 15,000 Breakfasts

The Town Foundation has reached another landmark this week, with the 15,000thhealthy and nutritious meal being served via the Early Kick-Off Breakfast Clubs.

The registered charity launched its eighth breakfast club in March at Ethos College (clickHERE) increasing the impact the breakfast clubs have on primary school pupils across the region.

The first initiative of the Town Foundation, 'Early Kick-Off' is an exciting scheme that helps ensure the young people of Huddersfield and the wider community start their day in the right way – with a healthy nutritious breakfast.

Initially the project benefited five specially selected local schools upon its launch in November 2012 but such was the initial success that the scheme has now been expanded to a further three schools, with a further launch planned at Chickenley on 22 April.

Feedback from the schools involved has also been glowing. Headteacher Dora Plant from Ashbrow School, one of the eight schools in the Early Kick-Off project, commented:

"We have served 1,640 breakfasts since our launch day, so the breakfast club has been a huge success – which I think will continue to grow.

"I have also been able to increase support staff hours so that we can be as inclusive as possible for children with more complex needs and it is really a special time for us all.

"I would like to thank the Town Foundation and everyone involved with the Early Kick-Off Breakfast Clubs; we are thrilled to be part of this opportunity. It has been an amazing response and the children are so happy to enjoy the wholesome food on offer daily. Thank you all so much!"

Individuals can make a donation towards the Early Kick-Off breakfast clubs via the Town Foundation's JustGiving page – click HERE to do so now!

Don't forget, you could win the Town Foundation Mini via a bumper draw at the last game of the season – click HERE for more info!