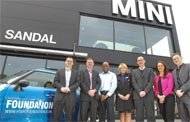 01 Apr

Mini In Prime Position

Foundation MINI on show at Sandal

Town Foundation's MINI One Countryman has taken up a prime position at the Sandal Dealership on Leeds Road ahead of the prize draw next month.

The MINI, which will be given to one lucky Town fan at the Barnsley game, is currently pitched at the dealership until Saturday.

Town has been selling £5 raffle tickets since the start of the season and will do so right up until the Barnsley game on 4 May.

Tickets are on sale from Town's Golden Gamble staff around the ground on a match day and from the charity's fundraiser next to the MINI outside the North End of the Direct Golf UK Stand. Tickets are also available through the week from the Stadium Superstore, the ticket office and Canalside Sports Complex.

Corporate Fundraising Officer of the Foundation Mandy Taylor commented:

"We are extremely grateful to Paul Hartley Brand Manager at Sandal Huddersfield for showcasing the MINI on his pitch in key positions, leading up to our next home game.

"The location of the dealership on Leeds Road and only a few minutes away from the Stadium is an added benefit and we feel certain that their support will be invaluable.

"The car is eye-catching and proudly sports the Club's crest and we are sure that the person, who drives away in it, will be very happy! The vehicle has been utilised to raise awareness of the charity leading up to the draw date and every penny raised via prize draw ticket purchases will make a significant difference to the lives of thousands of children in the area"

The Mini was donated free of charge to the Huddersfield Town Foundation and all proceeds made through the draw will go back to the charity, which aims to help improve the quality of life for young people across Huddersfield and the West Yorkshire area.