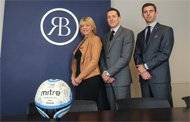 01 Apr

Robertson Baxter Foundation Donation

Independent financial advisors Robertson Baxter has pledged a regular donation to the Town Foundation to fund its important work in the community.

The contribution will go towards the delivery of vital projects that can make a difference in the local Kirklees community, such as the current 'Early Kick-Off' breakfast clubs – serving breakfasts to primary school pupils in some of the neediest areas of West Yorkshire every morning.

Robertson Baxter Director Greg Robertson commented:

"Robertson Baxter is delighted to support the Town Foundation. A huge impact is being felt from such a simple initiative and the feedback from the schools involved is fantastic."

Town Foundation Corporate Fundraising Officer Many Taylor added:

"On behalf of the charity I would like to thank Greg, Stephen and the rest of the team at Robertson Baxter for their fantastic donation.

"The 'Early Kick-Off' breakfast club scheme is expanding rapidly and is reaching more local children, with nine schools now taking part in the initiative, and donations such as the one from Robertson Baxter will help us continue to serve healthy, nutritious breakfasts every morning.

"I hope more companies can pledge a donation to us and help us improve the lives of youngsters in our community."

Based in Shelley, Huddersfield, Robertson Baxter prides itself on integrity, discretion and trust as well as expertise and market awareness. The company is a long-term supporter of Huddersfield Town and will shortly sponsor the Annual Awards Ceremony for the third successive season (click HERE for full information).

The first official project of the Foundation, the 'Early Kick-Off' Breakfast Club, has already launched across the region. The Foundation has joined forces with several organisations such as Total Foodservice, Kirklees College, Kirklees Council, Caterer's Choice, Stafflex and Kid Premiership to supply schools in the football club's heartland with a free breakfast and NVQ level food hygiene training support.

'Early Kick-Off' breakfast clubs are now being run at nine schools across Kirklees, allowing them to feed their pupils every morning completely free of charge. This ultimately could equate to over 50,000 free breakfasts for local youngsters in our region per school year – and that number will grow if the Foundation receives further donations.

If you want to make a donation to the Foundation please click HERE!