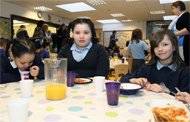 17 Apr

Community Shield Gives To Foundation

The Town Foundation has received a £2,000 from the FA Community Shield's fund, which is used to encourage community-based charities.

Every year the FA distributes funds raised through a combination of ticket sales and match day programmes for the season-opening Community Shield game evenly to the 124 clubs eligible for the competition. This season, the game in question saw Manchester City defeat Chelsea 3-2 at Villa Park.

With the money, the clubs then have the option to donate the money to their charity of choice and this season the money went to the Town Foundation, which was set up by the Club in 2012 and aims to improve the quality of life for young people in the area.

The first project the Town Foundation has undertaken is the 'Early Kick-Off' breakfast clubs, which now feed school pupils at nine schools across Kirklees a healthy and nutritious breakfast every week day before they start their day of learning.

If you would like to find out more about the most recent launch at Chickenley earlier this week, click HERE!

If you're a business or individual and fancy getting involved in the Town Foundation, email mandy.taylor@htafc.com or click HERE to donate now!