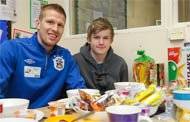 01 May

Almost 20,000 Breakfasts Served!

Town Foundation set to hit landmark during exam period

Just eight months into the 'Early Kick-Off' project, the Town Foundation is fast approaching the impressive milestone of 20,000 healthy and nutritious breakfasts served to children across the local area.

Nine breakfast clubs are now up and running across Huddersfield and the wider area at Christ Church Academy, Old Bank, Hillside, Lowerhouses, Netherhall Campus, Spring Grove, Ash Brow, Ethos College and Chickenly.

The recent surge in breakfasts served comes at a time when children are preparing to tackle SAT exams. Many of the nine schools involved are inviting additional children to attend their breakfast clubs ahead of what will be a busy and challenging couple of weeks. Hillside Primary, for example, has sent out 40 additional invited to their Year 6 students.

The Town Foundation's Corporate Fundraising Officer Mandy Taylor added:

"Sustainability of funds is key to the Town Foundation; we need to continuously fundraise to ensure that the 'Early Kick-Off' breakfast clubs continue to thrive and deliver nutritious breakfasts to as many children as every club can accommodate for many years to come.

"There are a multitude of ways that people can fundraise for the charity; a single or monthly donation or by partaking in or staging a fundraising event. The list is endless!"

The latest fundraising event takes place in July when the Foundation will embark upon on Fundraising skydive. A number of Town's First Team coaches, staff, Club Partners and fans are taking part in the event and places are still open if you would like to join in the fun! For more information click HERE

If you want to get involved with the Town Foundation, please email Mandy on mandy.taylor@htafc.com or call 01484 484197. Alternatively click HERE to donate via Just Giving!