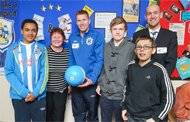 01 May

Breakfast Clubs Reach 10th School

The Town Foundation – the official registered charity of Huddersfield Town – will launch its 10th 'Early Kick-Off' breakfast club at Dalton Junior, Infant and Nursery School on 11 June.

The first official project of the Foundation, the breakfast clubs help pupils across our region start their learning day in the right manner – with a healthy, nutritious breakfast.

Since the inception of the Foundation in the summer of 2012, nine breakfast clubs have been setup in specially selected schools across the Kirklees and Yorkshire region.

The 10th breakfast club is now in the pipeline at school partner Dalton, which will take the number of breakfasts being served by the charity to an average of 500 per day!

The Town Foundation's Corporate Fundraising Officer Mandy Taylor explained:

"Sustainability is the key for the continued success of the 'Early Kick-Off' project, which aims to play a role in keeping local children healthy to help them gain great results at school.

"The charity will be able to expand the scheme to 10 schools thanks to the superb support

"We can continue to grow the numbers thanks to the terrific support we have received from both individuals and companies via single or regular donations or fundraising events.

"On top of that, our partners Total Foodservice and Caterer's Choice have also been instrumental in the logistics and running of the breakfast clubs.

"We still need support. No matter how small the donation, every penny counts and will make a direct benefit in a very tangible way, as we have plans in place to extend the Early Kick-Off project to two further schools in the North Kirklees region when the next school term begins in September 2013.

For more information on the Town Foundation, visit www.htafcfoundation.com!