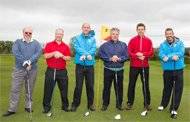 01 May

Golf Day raises £600 for Charity

Club Ambassador Andy Booth, Commercial Director Sean Jarvis and ex-player Trevor Cherry took to the golf course on Friday to help raise money for the Town Foundation and charity partner the Forget Me Not Children's Hospice!

The Town trio joined Greg Robertson of Robertson Baxter to form Town's team in a special charity golf day organised by supporter Warren Green.

In challenging weather at Headley Golf Club in Thornton, Town's team finished third in the 'Texas Scramble' event on a very competitive afternoon.

The Town Foundation's Corporate Fundraising Officer Mandy Taylor commented:

"On behalf of the charity I would like to thank Warren for organising the golf day, which has not only raised valuable funds for the Town Foundation and Forget Me Not Children's Hospice, but also heightened awareness for the two causes.

"I understand that numerous businesses and individuals, including Bramwell Social Club, have been very generous and thank them all for their support both leading up to and on the day itself."

If you are interested in supporting the Town Foundation through an event, please contact Mandy Taylor on mandy.taylor@htafc.com or call 01484 484197. Alternatively, click HERE to make a donation!