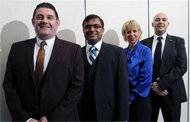 01 May

Manufactured Yorkshire Takes Place Today!

'Manufactured Yorkshire 13' will be held at the Stadium today, with the Town Foundation joining forces with Hillrich and John Walton (Machine Tools) Ltd to place one apprentice into a business.

The event, scheduled for 14 May, will bring together manufacturers and their supply chains in a day of learning, collaboration and networking in order to strengthen trade links with a focus on the future of manufacturing.

Proceeds made from stand sales will go to the Town Foundation, which will use the money to place one lucky apprentice in work at a manufacturing company.

Seminars on the day will come from manufacturing heavyweights such as Huddersfield MP Barry Sheerman; Terry Scouler, CEO of EEF, Siemens HR Director Mike Jones, Chief Executive of Finance Yorkshire Alex McWhirter; Mark Ridgway OBE, Chairman of Group Rhodes; Nick McLean, outgoing Chair of Leeds LEP and Mark O'Reilly, Chairman of Team Humber Marine Alliance.

Seminar topics will include 'The Future Of Manufacturing', 'Skills For Growth In Manufacturing', an Export Panel Q&A, 'Becoming Supply Chain Ready', 'Funding For Future Growth' and 'Meet The Buyer'.

The Town Foundation's Corporate Fundraising Officer Mandy Taylor added:

"In partnership with the team behind MY '13, we aim to have the financial means to fund a first year manufacturing apprentice entering the industry.

"All participating organisations will have the opportunity to apply for this unique initiative. Apprentices tend to be eager, motivated, flexible and loyal to the company that invests in them.

"They have made an active choice to learn on the job and a commitment to a specific career with over 80% of those employers who employ them agreeing that they make their workplace a more productive place.

"This is yet another new and innovative project that we, as a local charity are incredibly proud to benefit from. Our mission is to make a real difference to the lives of children and young people within our community and we are incredibly grateful for the awareness opportunity that this event will give."

For more information on the event visit www.manufacturedyorkshire.com.

All delegate places are free and individuals in the manufacturing sector or supply chain can book now by clicking HERE.