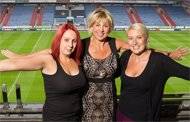 01 Jun

Club Staff Back Foundation Skydive

On Sunday 28 July a team of daredevil fundraisers – including three members of the Club's staff – will take part in a tandem skydive to raise funds for the Town Foundation.

The team of nine, which will include the Town Foundation's Corporate Fundraising Officer Mandy Taylor as well as Gemma Haigh and Hayley Moore from the Club's Promotions Department, will head to Brigg Airfield, based at Hibaldstow, North Lincolnshire to partake in an adrenaline-fuelled free-fall from 15,000ft, travelling at 120 mph safely strapped to the front of a fully qualified instructor.

If you want to sponsor the Town Foundation Skydiving team, click HERE to visit JustGiving now! You can also see the individual fundraising pages of some of the other members of the skydive team.

The Town Foundation's Mandy Taylor commented:

"I would like to thank everyone that has agreed to take part in the skydive, as well as everyone who has generously pledged money in support to this date.

"Personally I am petrified of heights, but the cause is such a worthy one that I have decided to try and overcome my fears!

"As with every event the Town Foundation organises, the money we generate from this skydive will go towards a project that will make a tangible difference to youngsters in our community, such as the Early Kick-Off Breakfast Clubs that currently feed a healthy and nutritious breakfast to over 500 pupils a day in 10 local schools."

Hayley Moore of Town's Promotions Department added:

"Mandy mentioned the skydive to me and Gemma and we're quite literally jumping at the chance! We've both done one skydive before and we loved it, so it was an easy decision given how worthy a cause it is too.

"We understand that times are hard, but hopefully everyone can dig deep for the charity."

Keep checking htafcfoundation.com for an introduction to the rest of the charity's Skydive team over the coming weeks!