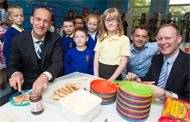 01 Jun

Foundation Hits Double Figures

Dalton Junior and Infant School become tenth Breakfast Club

The Town Foundation hit yet another landmark this week with the opening of the charity's tenth Breakfast Club at Dalton Junior and Infant School.

Over 50 children attended the opening of the breakfast club which will provide healthy and nutritious breakfasts every day of the week courtesy of the Foundation!

Club Ambassador Andy Booth and the Foundation's Corporate Fundraising Officer Mandy Taylor were joined by Paul Radcliffe of Club Partner Radcliffe Construction; Simon Howarth from Total Foodservices; Jeanette Cartwright of Kirklees Catering; trustees Caroline Lee and Ann Hough and wife of Chairman Dean Hoyle, Janet.

While Andy Booth talked football with the children and presented them with a brand new Huddersfield Town ball Paul and Simon were on toast duty in an attempt to meet the high demand!

The first initiative of the Town Foundation, 'Early Kick-Off' is an exciting scheme that helps ensure the young people of Huddersfield and the wider community start their day in the right way – with a healthy nutritious breakfast.

Initially the project benefited five specially selected local schools upon its launch in November 2012, but such was the initial success that the scheme has now been expanded to a further five schools.

Town Foundation's Mandy Taylor commented:

"As always there was a fantastic atmosphere at the breakfast club on Tuesday. It was one of our best attended launches with over 50 children enjoying healthy and nutritious breakfasts courtesy of the Foundation.

"We have now served up over 22,000 breakfasts across the whole project, which is an amazing testament to the success of the scheme given the first breakfast club launched only nine months ago.

"I would like to thank everyone – businesses and individuals alike – that has made a donation to the Town Foundation to make this possible; together we are making a difference in our community."

Make a difference now and donate to the Town Foundation!