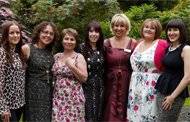 01 Jul

Charity Event Supports Foundation

Ladies 4 Networking held a gala charity evening at the Vinery hair salon in Highfields to raise funds and awareness for the Town Foundation last week

The free event was well attended and showcased beauty and fashion businesses run by Yorkshire's female entrepreneurs along with numerous other local businesses.

Organised by Ladies 4 Networking, a group set up to unite business across the county, a raffle was held with all the proceeds being donated to the Town Foundation.

The Town Foundation's Corporate Fundraising Officer Mandy Taylor said:

"A lot of people attended the event at the Vinery, which will really help to raise awareness of the Town Foundation's aims and values. Many of the guests expressed an interest in becoming volunteers and fundraise for the cause.

"I would like to thank Ladies4Networking and the Vinery for holding the raffle to raise funds for the Foundation also. The money will be used to help us fund our on-going Breakfast Club projects and numerous other initiatives we have planned moving forward."

The overall aim of the Huddersfield Town Foundation is simple – to help improve the quality of life for young people across Huddersfield and the West Yorkshire area.

Donate to the Foundation now – click HERE!