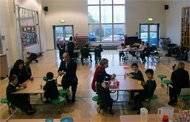 01 Jul

Early Kick-off Hits 30,000 Breakfasts

Just one year since its inception the Town Foundation, through its 'Early Kick-Off' project, has served 30,000 healthy breakfasts to school pupils across the local area.

Ten breakfast clubs are now up and running across Huddersfield and the wider area at Christ Church Academy, Old Bank, Hillside, Lowerhouses, Netherhall Campus, Spring Grove, Ash Brow, Ethos College, Chickenley and Dalton.

Every morning the breakfast clubs serve around 2,200 children nutritious meals to ensure they start their day in the correct manner and are fully prepared to learn.

An expansion of the project is planned for the start of the next school year, with an eleventh school in the Kirklees area already pre-selected.

The Town Foundation's Corporate Fundraising Officer Mandy Taylor commented:

"Since we launched 'Early Kick-Off' in September 2012, the project has really taken off.

"During the first six months we served 10,000 breakfasts, but thanks to the popularity of the clubs and the expansion to further schools we've doubled that during the following six month spell.

"I would like to thank everyone that has made this project possible so far, from the countless individuals whose donations fund the project to our partners Total Foodservice and Caterers Choice for their help in the logistics of serving so many breakfasts every morning. High praise must also be bestowed upon the schools themselves for embracing our initiative and ensuring that the clubs are run efficiently by teams of staff, volunteers and parents."

Mandy continued:

"Sustainability of funds is very important to the Town Foundation; we need to continuously fundraise to ensure that the 'Early Kick-Off' breakfast clubs continue to thrive and deliver nutritious breakfasts to as many children as every club can accommodate for many years to come.

"There is a multitude of ways that people can fundraise for the charity; a single or monthly donation or by partaking in or staging a fundraising event. The list is endless!"

The latest fundraising event takes place in July when the Foundation will embark upon a Fundraising skydive. For more information click HERE

If you want to get involved with the Town Foundation, please email Mandy on mandy.taylor@htafc.com or call 01484 484197; alternatively click HERE to donate via Just Giving!