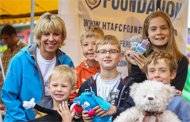 01 Jul

Fun For All At Fire Station Open Day

Thousands of families helped to raise money for the Town Foundation by visiting the Huddersfield Fire Station Open Day last weekend.

Club Partner West Yorkshire Fire and Rescue Service selected the Town Foundation and the Fire Fighters Charity to support at this year's annual open day, whereas Barclays Bank has also agreed to match any funds raised by the event.

Entertainment on the afternoon included children's rides and games as well as refreshments such as ice creams, while the Fire Service put on several displays including a simulated chip pan fire and an aerial appliance display along with tours of the station.

The Town Foundation was also present alongside the Club's 'Football in the Community' team and the ever-popular 'Terry the Terrier'!

The charity's Corporate Fundraising Officer Mandy Taylor commented:

"I would like to thank the West Yorkshire Fire and Rescue Service for supporting the Town Foundation at this year's Huddersfield Open Day; it was a fantastic community event and a privilege to be a part of.

"The afternoon was extremely busy and we've raised a good amount for the charity, which will go towards vital projects that benefit youngsters across our community. I would also like to express my sincere thanks to everyone who kindly donated a teddy bear for our 'teddy tombola' and due to its success, we are now appealing for further donations to replenish our stock for future events."

The overall aim of the Huddersfield Town Foundation is simple – to help improve the quality of life for young people across Huddersfield and the West Yorkshire area.

Its first official project is the 'Early Kick-Off' breakfast clubs, which is approaching 30,000 healthy and nutritious breakfasts served to school pupils across 10 schools in Kirklees. ClickHERE for news of the latest EKO launch at Dalton Junior and Infant School.

Administration and business costs from all projects will be settled by a direct donation by Trustee Dean Hoyle to the Foundation to ensure that those costs do not impact upon the charity or the football club, with the added boost that he personally match funds each and every penny donated.

If you want to get involved with the Town Foundation, please contact Mandy via mandy.taylor@htafc.com; call 01484 484197!