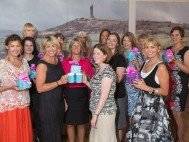 01 Jul

Ladies Get Tweeting Masterclass

A group of local businesswomen received a master class in social media thanks to the Town Foundation on Tuesday.

Social media tutor Beth Ward of Tippey Marketing gave her time and expertise to the charity free of charge in order to give a group of female attendees an insight on how to have confidence on, and get the best out of, social media such as Twitter.

The event was a first for the Town Foundation and also featured a networking session and lunch at Canalside's newly refurbished kitchen (click HERE for more information).

Attendees included several club partners; former Master Ched contestant Nat Tallents; Kate France of Uniform Exchange and Huddersfield Town's Ann Hough, Tracy Nelson and Sue Beaumont.

The ladies also dug deep in their pockets on the afternoon, making voluntary donations to the charity.

The Town Foundation's Corporate Fundraising Officer Mandy Taylor commented:

"The event was a huge success and we feel certain that there will be many more to follow.

"I would like to thank everyone that came down and took part in the afternoon, especially those who donated valuable funds to the charity.

"Hopefully everyone took something positive from the day and now feels more confident about 'taking the plunge' into the world of social media!"

Donate funds to the Town Foundation now and help to make a difference in the lives of children in your area – click HERE!