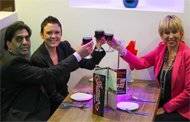 01 Jul

Shama Restaurant Backs Skydive

The Town Foundation's fundraising Skydive on 28 July has been supported by a local Huddersfield business.

Skydive team member Jo Wilkinson has been backed by Shama Restaurant on Bradford Road, Fartown, and visited the eatery to thank Manager Mohammed Tariq alongside the Town Foundation's Corporate Fundraising Officer Mandy Taylor.

Shama Restaurant – which is only a couple of miles away from two schools that are benefiting from the charity's 'Early Kick-Off Breakfast Clubs – has donated £100 towards the skydive, which will see a team of nine head to Brigg Airfield, based at Hibaldstow, North Lincolnshire to partake in an adrenaline-fuelled free-fall from 15,000ft, travelling at 120 mph safely strapped to the front of a fully qualified instructor.

Skydive team member Jo Wilkinson commented:

"As a small local business owner I'm really pleased to be able to support the great work the Foundation does across Kirklees by helping to raise money through a Skydive. I thought running a business was risky but doing this skydive is certainly the most risky and challenging thing I've ever signed up for which is what makes it worthwhile doing."

The Town Foundation's Corporate Fundraising Officer Mandy Taylor added:

"For the skydive to be a success, we need support from local individuals and businesses alike and on behalf of the charity I would like to thank Mohammed and Shama Restaurant for their support.

"Shama's backing is particularly poignant given that two of our 'Early Kick-Off' schools are within a stone's throw of the business. The restaurant's donation is going to make a direct difference to youngsters in that area, which is the exact remit of the charity."

You can sponsor Jo and the rest of the Town Foundation Skydive team via JustGiving – click HERE!