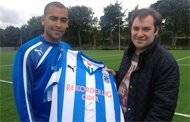 01 Aug

Fan Collects Shirt From Vaughany!

An impressive £651 was generated for the Town Foundation – the registered charity of Huddersfield Town – through the auction of two replica home shirts signed by James Vaughan.

The charity, which aims to improve the lives of young people across the region, auctioned off the two home shirts that Town's Player of the Year signed on the day he returned to the Club permanently in July 2013.

James signed one shirt on the front and the other on the back on top of his new number nine!

Click HERE to see our Instagram video of James wearing and signing each shirt!

Chris Bane, a Director at Club Partner Strikes Collection Services, dropped down to Canalside on Friday to collect his shirt from James; they are pictured above.

The other shirt, which was signed on the back, will be collected by its winner Phil Hodgkinson at a later date.

The Town Foundation's Corporate Fundraising Officer Mandy Taylor said:

"On behalf of the charity, I would like to thank Chris and Phil for their generous bids for James Vaughan's signed shirts – as well as everyone else that placed a bid during the auction.

"This significant amount of money will allow us to serve over 1,300 healthy and nutritious breakfasts to school pupils who need help the most in our region; it's a terrifically worthwhile cause."

Three of the party of Town Foundation Skydivers – Jo, Ritch and Wayne. will attempt their fundraising jump on Saturday after their first attempt was called off due to unsuitable weather; click HERE for more info.

Donate to the Town Foundation via JustGiving today – click HERE!