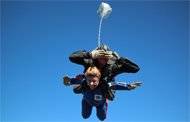 01 Sep

Foundation skydive raises £3,700

Six fundraisers enjoyed the thrill of a lifetime on Sunday to complete a fundraising skydive for the Town Foundation, raising £3,700 in the process!

Following on from Jo Wilkinson and Wayne Sables in August (click HERE for full info), six more skydivers – Curtis Paxman, James Paxman, Pamela Hampshire, Hayley Moore, Gemma Haigh and the Town Foundation's Corporate Fundraising Officer Mandy Taylor – completed the skydive from Brigg Arfield in Hibaldstow, North Lincolnshire, on Sunday.

All six completed the skydive in perfect weather conditions and took the fundraising total to almost £3,700, but you can still add to that via the charity's JustGiving page; click HERE! You can also see the individual fundraising pages of some of the other members of the skydive team.

Mandy, who is pictured above during her dive, commented:

"It makes me immensely proud to see the extremes that people are prepared to push themselves to in the name of charity.

"The team of fundraisers demonstrated the highest degree of camaraderie and selflessness on Sunday and their tireless fundraising via JustGiving will make a significant contribution to our charity."

For a YouTube video of Mandy completing her Skydive, click HERE!