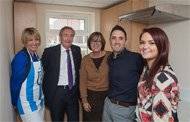 21 Sep

Trustees Help Berry Brow

Town Foundation trustees Caroline Lee and Sean Jarvis have teamed up to help improve Berry Brow Infant and Nursery School.

The locally based school were seeking help with the refurbishment of their kitchen area and after being made aware of their wish, Town Foundation Caroline Lee contacted Town's Commercial Director Sean Jarvis to find out what could be done.

Jarvis acquired the help of Rixonway Kitchens in Dewsbury who kindly provided their services and installed a new kitchen.

Chief Executive of Rixonway Paul Rose said: "Rixonway is delighted to be able to help the Town Foundation and particularly this fantastic initiative at Berry Brow."

Jacquie Hall, Head Teacher at Berry Brow, added: "If you look around our school you will see a golden glow of smiles laced with heartfelt thanks over Berry Brow Infant and Nursery School for the combined force of the Town Foundation and Rixonway.

"Much appreciated thanks from the school and on behalf of our lovely community."

The school is planning to launch the refurbished kitchen on 26 September with an art and literacy event.

The next phase of the development at the school will be the establishment of a Breakfast Club.