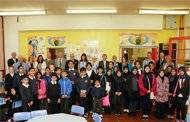 23 Sep

Ravensthorpe Is Eleventh Breakfast Club

Huddersfield Town Chairman Dean Hoyle donned his chef's hat on Monday morning to help the Town Foundation launch its eleventh 'Early Kick-Off' Breakfast Club at Ravensthorpe CE Junior School.

Dean was joined by his wife Janet and fellow Town Foundation trustees Stuart Bragan and Caroline Lee as the junior school opened its breakfast club for the first time.

On its opening day over 50 pupils attended, with many queuing at the door as early as 7.30am in order to start their learning day with a healthy and nutritious breakfast.

The charity's trustees helped out on the morning by its expert advisors Teresa Whyte and Jeanette Cartwright with additional support from Paul Radcliffe of Huddersfield Town's Club Partners Radcliffe Construction and Simon Howarth of Total Foodservice, which has been instrumental in the formation of the breakfast club project.

Captain Booth, the Town Foundation's new mascot (click HERE for full info), also made his first visit to one of the charity's 11 breakfast clubs alongside his namesake Andy Booth, the Huddersfield Town Ambassador!

The Town Foundation's Corporate Fundraising Officer Mandy Taylor commented:

"I'm delighted that the charity has been able to open its 11th 'Early Kick-Off' breakfast club.

"The feedback from the children at the breakfast club was tremendous, with many of the pupils going back for seconds and thirds of the healthy food that had kindly been provided to the schools by Total Foodservice and Caterer's Choice; items like 'Fruity Pots' and raisins.

"It was also great to see the children with our new Reading Diaries in their hands. Many of them asked for autographs on the front cover and were proud to show off their work to date."

Click HERE for full details of the charity's reading diaries.

The first official project of the Town Foundation, the breakfast clubs help pupils across our region start their learning day in the right manner – with a healthy, nutritious breakfast.

Since the inception of the Town Foundation in the summer of 2012, eleven breakfast clubs have been setup in specially selected schools across the Kirklees and Yorkshire region, meaning the charity now serves on average over 750 breakfasts a day. In that time, almost 43,000 breakfasts have been served.

You can make the difference and donate to the Town Foundation now – click HERE!