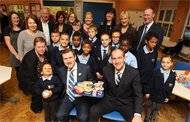 27 Sep

Foundation Up For Award

The Town Foundation has been recognised for its excellent work in the community by being short-listed for the Stafflex – Community Award at this year's Examiner Business Awards.

The short-listing is in recognition of the Charity's hard work in the local community and schools over the past year.

The overall aim of the Huddersfield Town Foundation is simple – to help improve the quality of life for young people across Huddersfield and the West Yorkshire area.

Over the last 15 months the Charity has launched a number of initiatives to improve the lives of young people in the local area. The Early Kick-Off Breakfast Club has been adopted by 11 local schools and so far over 50,000 breakfast have been served to children in a morning.

The Foundation has also worked to help promote and make reading fun at schools with its Reading Diaries. In September over 15,000 of the Reading Diaries – produced in partnership with Town Club Partner Igloo Books – were delivered to local schools.

The Charity has also been involved in Fire Station Open Days, Skydives, Apprenticeships, Cricket matches and many more as it aims to raise money to help fund its initiatives in the local area.

Town Foundation's Corporate Fundraising Officer Mandy Taylor told htafc.com:

"To be recognised as a worthy finalist for this special award is something that we are incredibly proud about. This is only made possible thanks to the overwhelming amount of support and goodwill gifted by not only the football club but our community as a whole. Daily, we aim to make a difference to the lives of thousands of children and young people in our community via numerous initiatives and long may this continue"

For eight years running, the Examiner Business Awards has celebrated the best in the Kirklees business community. This year's event features ten categories and is sponsored by Chadwick Lawrence.

A panel of judges will choose the category winners, who will receive trophies and certificates at the spectacular awards night on Thursday, November 14.

BBC Look North presenter Harry Gration, who has been involved with the awards since their launch, will again host the glittering event, which will also feature a celebrity speaker.