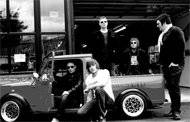 22 Oct

Fancy Being In A Music Video?

A local band is producing a special song in aid of the Town Foundation – and they need your help!

Huddersfield-based five-piece Indie Rock band REDSTAR is recording a new track in order to raise funds for the Town Foundation, the Club's registered charity that aims to make a difference in the lives of young people across Kirklees and the wider area.

The band is filming the video for the song at Canalside on Sunday 27 October – and wants to enlist as many Town fans as possible to star in it!

Up to 100 extras clad in blue and white are needed for filming, which will take place at Town's training ground on 509 Leeds Road from 10am.

If you are interested in coming, please email jonathan.wilkinson@htafc.com as soon as possible; the 100 places are free, but only available on a first come, first served basis.

For more information on the band, visit www.redstar-uk.co.uk.

More details about the special song will be released on htafcfoundation.com in due course!

Get your blue and white gear for the video now on www.htafcmegastore.com!