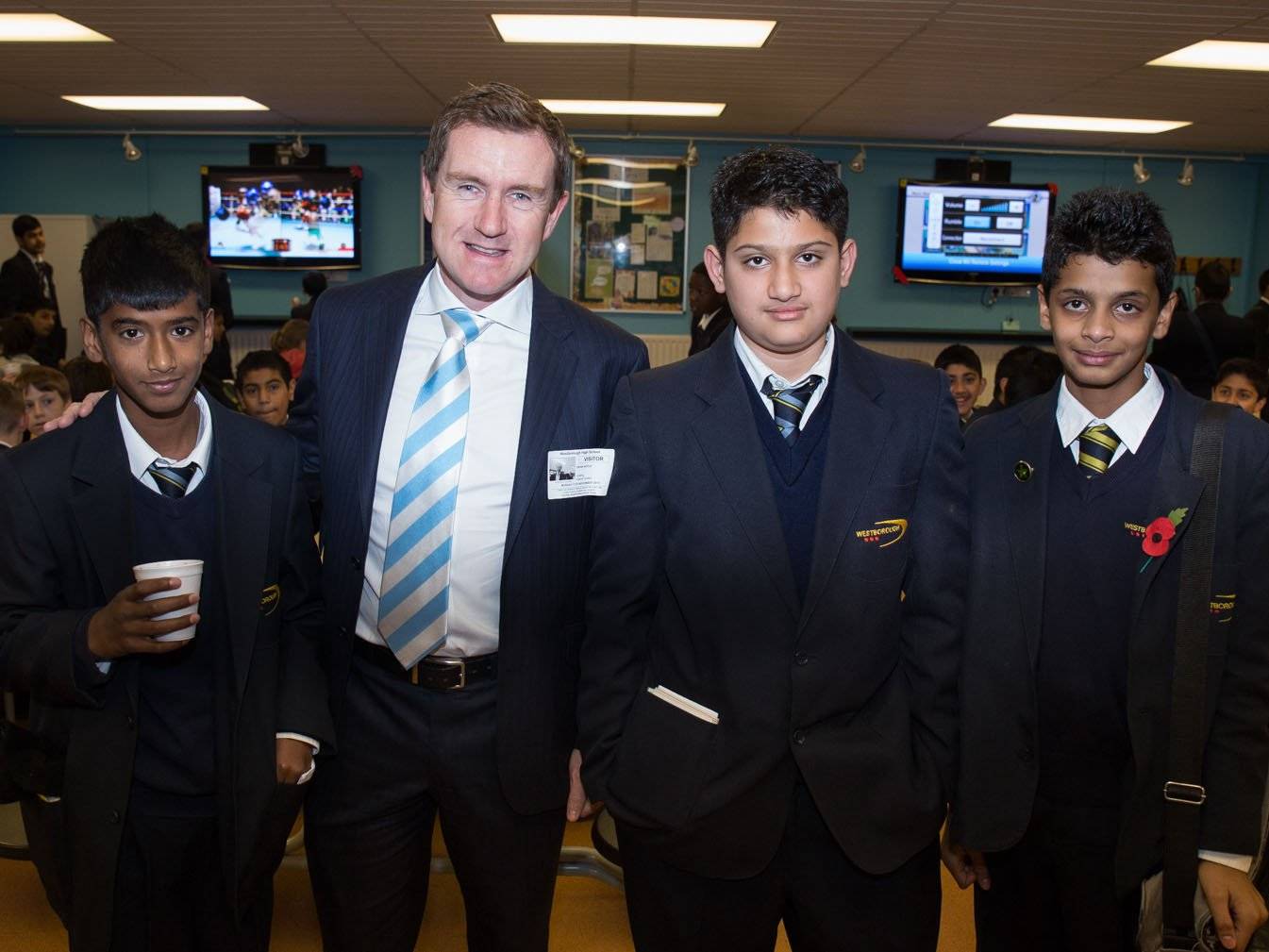 12 Nov

Chairman's Early Kick-off!

Dean attends opening of 12th Breakfast Club at Westborough High

 

Huddersfield Town Chairman and Foundation Patron Dean Hoyle helped launch the charity's twelfth 'Early Kick-Off' Breakfast Club at Westborough High on Monday morning.

 

Dean was joined by his wife Janet and fellow Town Foundation trustees Ann Hough and Caroline Lee as well as Club Ambassador Andy Booth, Corporate Fundraising Officer Mandy Taylor, Teresa Whyte of Total Foodservice, Kirklees Catering's Jeanette Cartwright and Paul Radcliffe of Radcliffe Construction.

 

On its opening day, the dining room at the school was packed out with pupils with many queuing at the door as early as 7.30am! All were desperate to start their learning day with a healthy and nutritious breakfast. It is anticipated that up to 100 pupils at the school you will enjoy breakfasts courtesy of the charity every morning.

 

The Westborough Early Kick Off Breakfast Club is unique to the charity as it is only the second school that will serve complimentary breakfasts to local teenagers – the other being Ethos College.

 

The Town Foundation's Corporate Fundraising Officer Mandy Taylor commented:

 

"It was an absolute pleasure to meet the staff and pupils at Westborough; we went through a very stringent application process with this high school and were touched and moved by their feedback. Clearly this particular school is very deserving of our support and I wish the team every success with this."

 

Gayna Goalby, Extended Schools Co-ordinator at Westborough High, added:

 

"At Westborough we only do the right thing, we know that many of our pupils only eat when they are at school and if we don't make the effort to feed and support them, no one else will. It is our job and responsibility to provide the extra nurture they need to become a useful and positive part of our community. Each morning therefore should start positively, with a friendly face, a chance to eat and be ready for the day ahead"

 

The first official project of the Town Foundation, the breakfast clubs help pupils across our region start their learning day in the right manner – with a healthy, nutritious breakfast.

 

Since the inception of the Town Foundation in the summer of 2012, twelve breakfast clubs have been setup in specially selected schools across the Kirklees and Yorkshire region, meaning the charity now serves on average over 800 breakfasts a day. In that time, over 50,000 breakfasts have been served.

 

The Foundation is set to launch Breakfast Club number 13 in North Kirklees next week.

 

You can make the difference and donate to the Town Foundation now – click HERE!