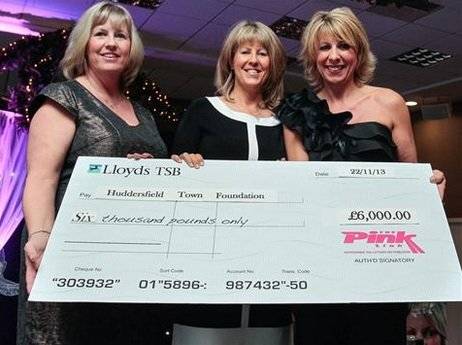 23 Jan

Dean's Foundation Digest
Pink Link donates to Town's official charity
Huddersfield Town Chairman Dean Hoyle has today issued the first 'Town Foundation Digest' – his round-up of everything that's going on with Town's official charity!
The Town Foundation has reached a fantastic landmark this week – it has now served 70,000 healthy and nutritious breakfasts through the 'Early Kick-Off' breakfast club initiative.
Following the launch of the Town Foundation at North Huddersfield Trust School in July 2012, we've now setup 14 breakfast clubs across the region.
Every morning the breakfast clubs can serve up to 1,000 children nutritious meals to ensure they start their day in the correct manner, which fits perfectly with the Club and the charity's mission to 'make the difference' in the local area.
Of course, the Town Foundation wouldn't be able to carry out its important work throughout the community without the support of the local business community and the latest company to pledge a donation is the Pink Link Ltd. On behalf of the charity, I would like to thank them for their support.
Vicki Davenport of the Pink Link Ltd gave a great explanation of why they have decided to get involved: "The Pink Link are honoured and delighted to have donated to the Town Foundation and are looking forward to getting involved in a breakfast club visit and seeing the impact the Foundation has had on the children. I am sure Pinky Lynx, our company mascot, will be popular with the children!
"In the past most of our fundraising has been involved with cancer charities, but we wanted to get involved with the local community and having seen the wonderful work and results the Town Foundation has achieved it was an easy decision."
If anyone else would like to get involved with the Town Foundation, please contact our Corporate Fundraising Officer Mandy Taylor via mandy.taylor@htafc.com.