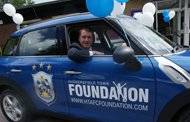 20 Mar

Dean's Digest

Thanks for reading my latest update on the Town Foundation – the official registered charity of Huddersfield Town. 

It's been a fantastic month for the Town Foundation on the regional front. I believe most Huddersfield Town fans are now well aware of how the charity's is 'making a difference' in our local community, but it was great that we were given the chance to promote all that work that is being undertaken – particularly the 'Early Kick-Off' breakfast clubs – to the region on BBC Look North recently. 

The cameras accompanied me and the rest of the team to the outstanding breakfast club at Ashbrow School in Huddersfield to focus on the need for a healthy start to the day for our local youngsters. I'm sure it shocked a lot of people to discover that some children in our area rely on these breakfasts to keep them going throughout the day as often this along with a school dinner may be the only guaranteed nutritional meals they can enjoy in a day ; it certainly shocked me when I first found out and was a big reason behind the formation of the Foundation.  

The focus on our breakfast clubs was particularly timely, as we recently passed the 100,000 breakfasts served landmark through our 14 clubs.  Every morning the breakfast clubs can serve up to 1,000 children nutritious meals to ensure they start their day in the correct manner and are fully prepared to learn. We've subsequently got feedback that attendance levels have soared, behaviour and learning have improved, social skills developed and many parents and carers have now also become active volunteers. That's how important it is that we 'make the difference'.

Of course, we wouldn't be able to 'make the difference' if it wasn't for the superb financial support we receive from our local community, including businesses. One such business – long-standing club partner the Orchard Group – is making a generous monthly donation to the charity and we were delighted to recently make them an honorary 'Champion' of the Town Foundation.  The Orchard Group, led by its Managing Director Gareth Henderson, shares our ethos that it is important to give something back to the community that supports you and I'd like to personally thank them for their continued support of the charity. The company has fully earned its status as a 'Champion' of the community.  

Gareth recently visited a breakfast club at Dalton Junior, Infant and Nursery School and told me: 
"I have been lucky enough to see the breakfast clubs in action and I was delighted to see that as well as starting the day with a healthy meal, the children are also having fun and socialising with friends. 
"We feel extremely honoured to have been made Champion members of the corporate supporters' initiative and will continue to spread the word about the superb work that is being done by the team in the hope that more businesses will be inspired to get involved. 
"The cost of feeding each child is small but the impact it can have on their health, education and wellbeing is enormous. 
"Early Kick Off offers businesses a great opportunity to fulfil their CSR objectives and make a real difference to children in our community." 
If your company wants to get involved, please get in touch with our Corporate Fundraising Officer Mandy Taylor on 01484 484197 or by emailing mandy.taylor@htafc.com.  
It's not just local companies and individuals lending their support – I'm delighted to see the players getting involved too. I personally think Adam Clayton's beard is horrendous, but I'm so pleased he has pledged to raise money and awareness for the charity through his 'Back the Beard' campaign. If you're one of the many fans of Adam's beard and want to donate, please visit www.justgiving.com/savethebeard.  
That's all for now – thanks as always for your support.