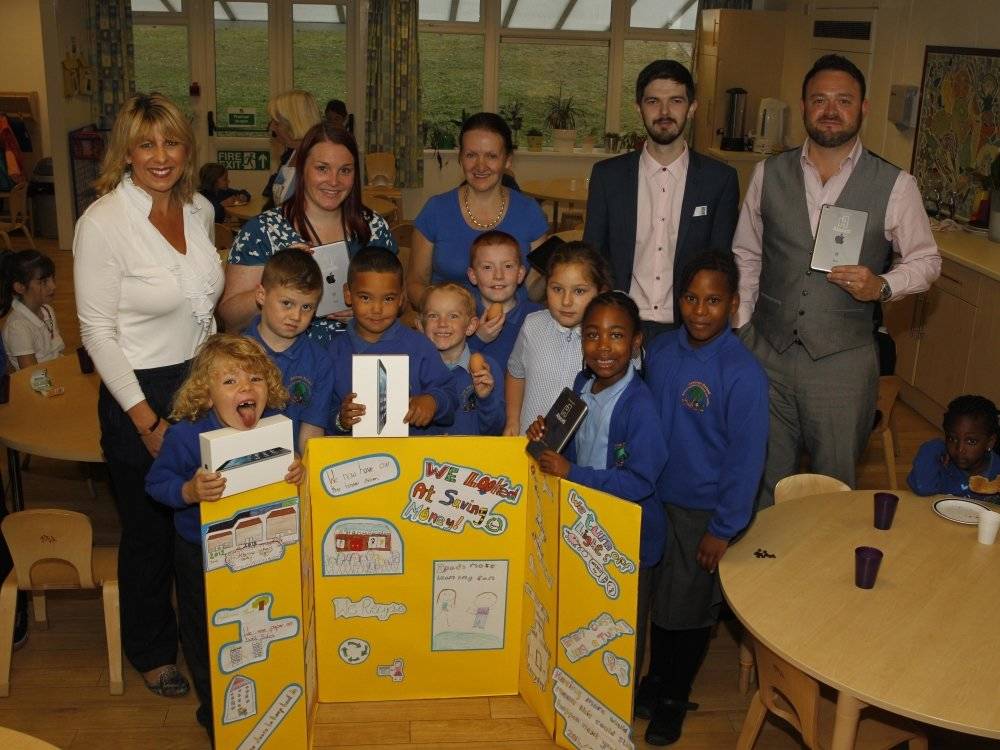 18 Sep

Kids 'abzorb' Knowledge Thanks To Charity Partner

Children from a local school will find it easier than ever to learn after winning a special competition organised by the Town Foundation and charity partner Abzorb. 

Based in Brighouse, business connectivity specialists Abzorb will kindly donate iPad Minis to one lucky school each month through a competition.  Schools were asked to submit a 100 word article explaining how it would best use an iPad Mini for the benefit of its students.  

The first selected winner was Ashbrow, Junior Infant and Nursery School, who created a huge storyboard that every breakfast club child could contribute to, focussing on how the iPad Mini would help the school as it strives to reduce its carbon footprint through recycling and energy saving. As a result, this morning Abzorb's Susan, Bradley and Andrew visited the school in Huddersfield to hand deliver the special prize. 

The iPad Mini competition was open to all 16 'Early Kick-Off' breakfast clubs to enter last academic year and, due to the strength of the submissions, Abzorb has kindly extended the competition and will give away further iPad Minis to schools over the coming months! There will be five more winners selected in the upcoming months, all of which will be reported on htafcfoundation.com in due course. 

Abzorb has been a long-time supporter of the Town Foundation – pledging a generous £6,000 towards the 'Early Kick-Off' breakfast clubs project that has now served almost 200,000 healthy meals at 16 schools since its inception in 2012.  

The Town Foundation's Corporate Fundraising Officer Mandy Taylor explained: 

"The staff at Abzorb shares the charity's love of our local community and since first getting involved with the Town Foundation, the company has thrown itself into the 'Early Kick-Off' project – becoming weekly helpers at the Dalton School club. 

"Its generous donation has already made a major impact on the breakfast club project, but now its new iPad competition has really galvanised the students. 

"I'm sure Ashbrow will be thrilled with its prize, but it is superb news that more schools will now benefit from Abzorb's competition." 

Abzorb's Director Steve Beeby added:  

"We received a great response from schools around Kirklees and were very impressed by the efforts that the schools have put into the competition.  

"Because of this, we strongly feel that we just couldn't leave any school out so we have decided to spread out the prize as equally as possible so that more schools can benefit from these fantastic gifts. 

"The Early Kick-Off' breakfast club is such a worthy cause. There were 102 for breakfast at Ashbrow Junior Infant and Nursery School this morning and we felt very welcomed by the children and staff. The charity can serve up to 1,000 breakfasts per day on average which equates to around £500 fundraising per day. We are so pleased to have been able to make a little difference to the schools and would encourage local businesses to get involved and support this great project.  

"We look forward to delivering the iPad Minis to the winners in the coming months." 

The brainchild of Huddersfield Town Chairman Dean Hoyle, the Town Foundation was officially launched in July 2012 after the football club enjoyed huge success in previous initiatives designed to benefit youngsters across the community.  

Every pound that comes into the Town Foundation is doubled by Foundation Trustee Dean Hoyle and no administration or business costs are taken from the fundraising pot – that cost is instead met by Huddersfield Town. Once money is collected, it is used to fund projects and initiatives that will directly benefit the young people of Huddersfield and the surrounding area, particularly those youngsters who need the support most.