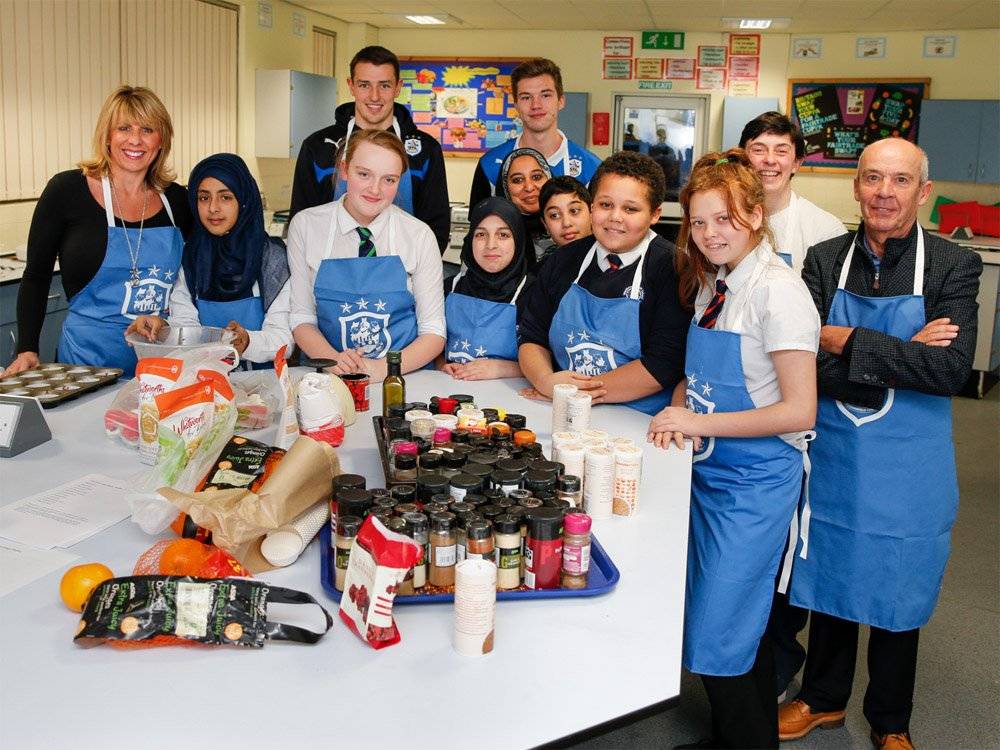 03 Oct

Dean Hoyle's Digest

As we approach the festive season, it seems fitting that I'm able to report that another two businesses have made amazing donations to the Town Foundation, the official charity of Huddersfield Town, over the last week. 

It's worth reminding everyone that the Town Foundation is completely self-funded and run as a separate entity to the football club. As such, it's very important that the charity gets the support of local businesses to allow it to continue the vital work it carries out that makes such a difference to the lives of young people across our region. 

One of the projects that has been so successful over the last school term has been the new 'Extra Time Cookery Club' that has started at Westborough High School in Dewsbury.

An extension of the brilliant 'Early Kick-Off' breakfast club project – which I'll come onto in a minute – it gives pupils the skills they need to cook for themselves away from the school environment.  

To celebrate the fantastic opening term, we had a surprise for the kids at the cookery club earlier this week – a visit from two of our players! Murray Wallace and Ben Holmes – one of our promising Under-21 players – spent the afternoon cooking alongside the pupils at Westborough. I'm sure it was a real treat to have the lads there and it's great that they volunteered their time.  

As I mentioned previously, the EKO breakfast clubs are going from strength to strength, helped in no small part by two superb donations from businesses we work with this week. 

Direct Voice & Data, a commercial partner of the Club based in Skelmanthorpe, has donated thousands of pounds towards the project – which now runs 16 clubs every day to feed pupils at schools in our region – after its Managing Director Dave Henderson visited Ashbrow School to see it in action.  

As usual, Dave – who I'd like to congratulate on winning the 'Young Business Person of the Year' accolade at the 2014 Examiner Business Awards recently – wasn't alone. As well as our Fundraising Manager Mandy Taylor, Dave was also joined by Joel Lynch, who has volunteered to visit a different breakfast club every week; he's a great ambassador for the Club.  

The money that Dave and Direct Voice has donated make this project possible and on behalf of the Town Foundation, and personally, I would like to thank them for their support. 

Support doesn't always come in the form of money. Another of our partners, Revell Ward, has added something a little different to the breakfast club at Dalton. On top of a very generous donation of money,  the company has donated a set of 'sporks' to the club to help them serve the hundreds of pupils it now gets at its successful breakfast club every single morning.  

Jennifer Davies, Karen Borowski and Krishna Patel from Revell Ward joined Foundation Trustee Sean Jarvis at Dalton this week to see their sporks being put to good use –and from what they told me afterwards, they had a great time! 

Jennifer told me: "That was brilliant! Can't get over what bright little sparks the kids are; all of them chirpy and chatty.  I think the breakfast clubs are not only providing a solid start to the school day, but they must be really good for the children's social skills too!  It was very enjoyable and rewarding to for all involved." 

Karen added: "It was so much more than eating breakfast; it was fun, friendly and exciting. When the children were asked why they enjoyed attending the breakfast club, the only answer was 'food'.  Many of the children told me about what they were looking forward to today and the energy was positive and happy." Again, I would like to thank Revell Ward for its support. Without it, we'd struggle to make the difference we do.  

If reading about the Town Foundation's work has peaked your interest, find out how you can get involved – please email mandy.taylor@htafc.com.