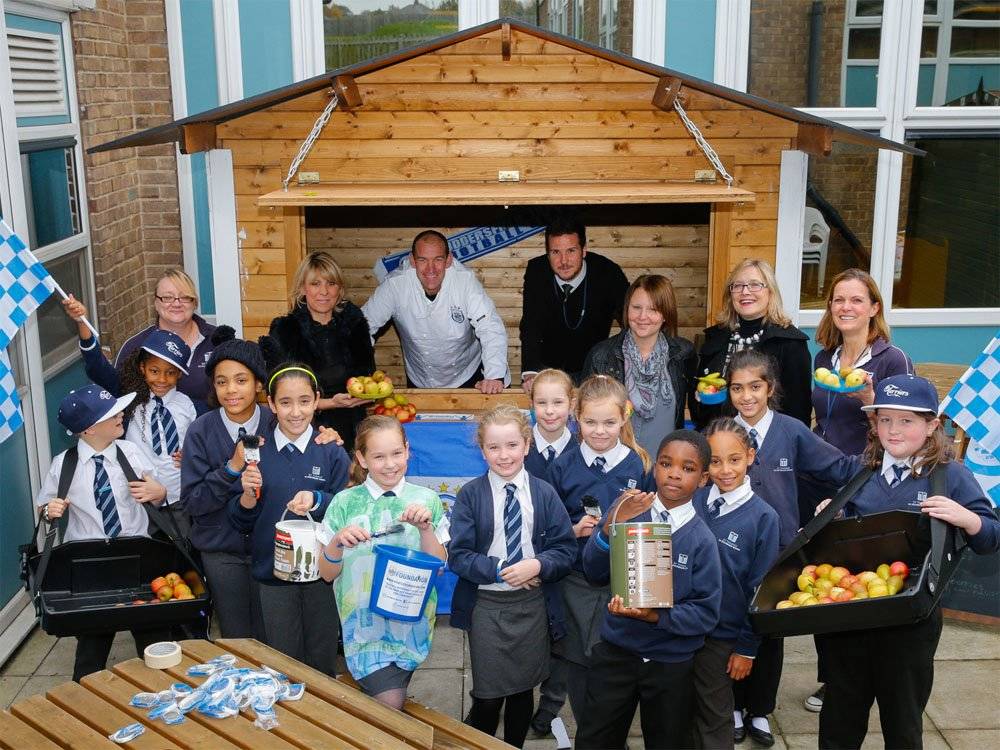 11 Nov

Town Foundation Opens 'hunger Hut'

The Town Foundation – the official registered charity of Huddersfield Town – has helped to open a new healthy eating initiative at St. Thomas's CE Primary School in Bradley. 

Named the 'Half-Time Hunger Hut', the scheme gives pupils aged between seven and 11 the chance to stock up on nutritious fresh fruit and vegetables during their break time. 

The 'Hunger Hut' was officially opened by Town's Club Ambassador Andy Booth and Headteacher David Rushby; they are pictured above with pupils from the school, Huddersfield Town's Rachel Taylor and the Town Foundation's Trustee Caroline Lee and Corporate Fundraising Officer Mandy Taylor. 

The Hut, pictured above, has subsequently been painted the famous blue and white colours of Huddersfield Town by club partner PPG Industries. Â Â 

Whereas the school's younger pupils benefit from free school meals, the 7-11 year-olds will now benefit from the Hunger Hut – which will plug the gap between breakfast and lunch time.  

The Town Foundation's Mandy Taylor commented: 

"It is brilliant to see the charity supporting a new initiative with an existing school partner of Huddersfield Town.  

"When we initially met some time ago to discuss our successful 'Early Kick-Off' breakfast club scheme it soon became apparent that the school was already running a well-attended club. However, the passion and pride of the Headteacher, David Rushby, shone through on the day and it was imperative that we explored any other avenues of support that we could offer." 

The Town Foundation, which aims to improve the lives of children and young people in the community, will fund the cost of the fresh fruit and vegetables that the 'Half-Time Hunger Hut' will serve.  

If you would like to donate something to the charity, please click HERE!