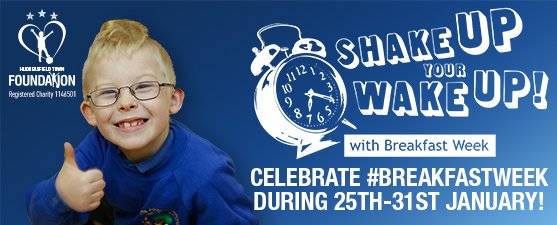 20 Jan

Celebrate National Breakfast Week With The Town Foundation

National Breakfast Week takes place between 25th-31st January and champions the importance of breakfast! The purpose of the campaign is to raise awareness of the benefits of eating a healthy breakfast and demonstrate the wealth of wonderful breakfast produce available around the country. Breakfast Week aims to encourage people to think about where their breakfast foods come from and support the cereal farmers who produce it.

The Town Foundation serves up to 1,000 nutritious breakfasts per day, every day, to ensure all pupils have the opportunity to start their day in the correct manner and are fully prepared to learn. Sixteen 'Early Kick-Off' Breakfast Clubs are now up and running across West Yorkshire, and the project is constantly expanding with new Breakfast Clubs and Cookery Clubs for older pupils.

Mandy Taylor, The Town Foundation's Fundraising Manager, commented: "It is vital for us to celebrate National Breakfast week as we know first-hand how important the first meal of the day is for children. Since launching the Town Foundation Breakfast Clubs attendance levels in schools have soared, behaviour and learning have improved, social skills developed and many parents and carers have now also become active volunteers and gained invaluable experiences and a feeling of self-worth."

You can get involved with National Breakfast week by hosting a business breakfast for your staff, sending us your #BreakfastSelfie on Twitter between 25th-31st January, or even donating to the Town Foundation here.