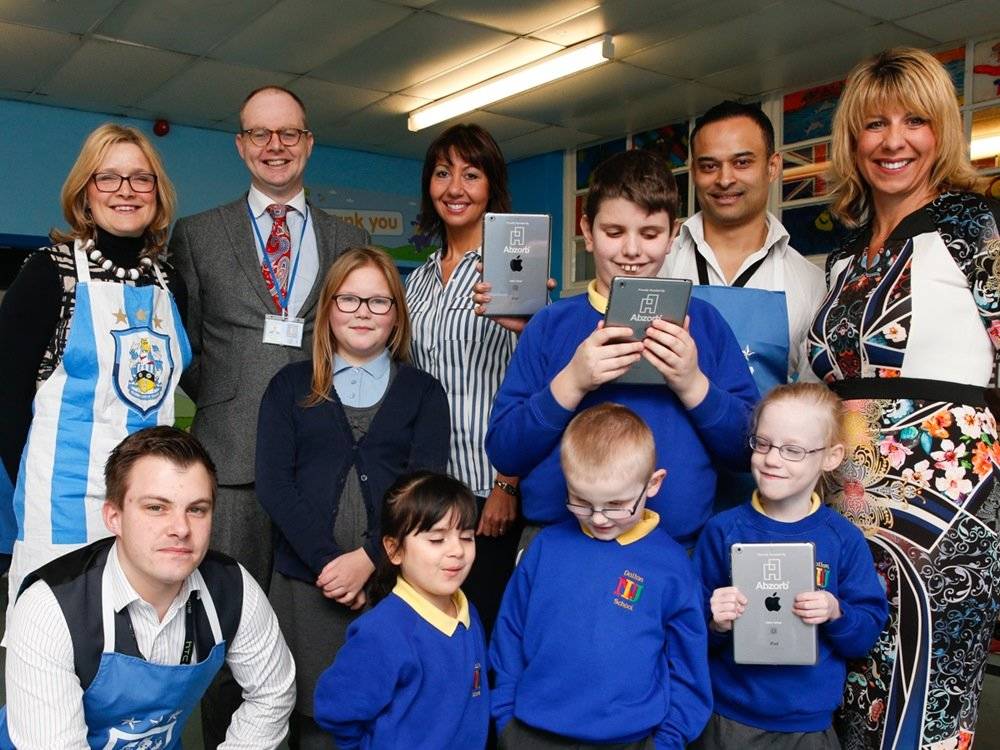 04 Mar

Dalton Benefits From Abzorb's Town Foundation Donation

Another local school has felt the benefit of a special competition organised by the Town Foundation and charity partner Abzorb. 

Based in Brighouse, business connectivity and communication specialist Abzorb is donating iPad Minis to one lucky school each month through a competition in which schools were asked to submit a 100 word article explaining how it would best use an iPad Mini for the benefit of its students. Â Â 

The iPad Mini competition was open to all 16 'Early Kick-Off' breakfast clubs to enter last academic year and, due to the strength of the submissions, Abzorb decided to give away iPad Minis to six schools over the past six months!   

The final winner was Dalton J&I School, whose submission struck a chord with Abzorb – as Marketing Manager Susan Smith explained: 

"The final winner of the iPad Minis competition was Dalton Junior & Infants School, where our team at Abzorb also help regularly with their Early Kick-Off Breakfast club.  

"We chose Dalton J & I as one of many deserved winners because of the entry submitted by their former Head Teacher Mrs Lindop with the help of Year 5 pupils, Abbi-Leigh Hill and Jacob Ellis.  

It reads as follows:Â 

Dalton has a unit for children with Visual Impairment. iPads are invaluable in helping all the children access the curriculum but especially those with poor sight. iPads can work with smart boards enabling children to see what other children can see, even in assembly.  One child said, "They help me to see displays – I can take a photo on the iPad and then zoom in close."  They are light, portable and easy even for a nursery VI children to use.  iPads would make Dalton even more inclusive.  Other schools with visually impaired pupils could learn from us about how to use them. 

"It was a lovely surprise to meet with these children who did not have a clue that they had won. When this was announced to them, they were jumping with joy and all smiles that spread across the room and touched our hearts.  We also met Abbi-Leigh and Jacob who were so modest when thanked for their efforts.  

"The whole experience has been a humbling one for all of us.  It was a fantastic end to the competition but also marks the beginning of a journey that Abzorb will make to ensure continuous support for the Town Foundation Charity and its mission to help improve the quality of life for young people across Huddersfield and the West Yorkshire area." 

The Town Foundation's Fundraising Manager Mandy Taylor added:  

"On behalf of the charity I would like to thank Abzorb for its superb generosity over the course of the last year through this competition, which will make a huge and tangible improvement to the learning process at schools such as Dalton." 

Abzorb has been a long-time supporter of the Town Foundation – pledging a generous £6,000 towards the 'Early Kick-Off' breakfast clubs project that has now served fast approaching 250,00 healthy meals at 16 schools since its inception in 2012.