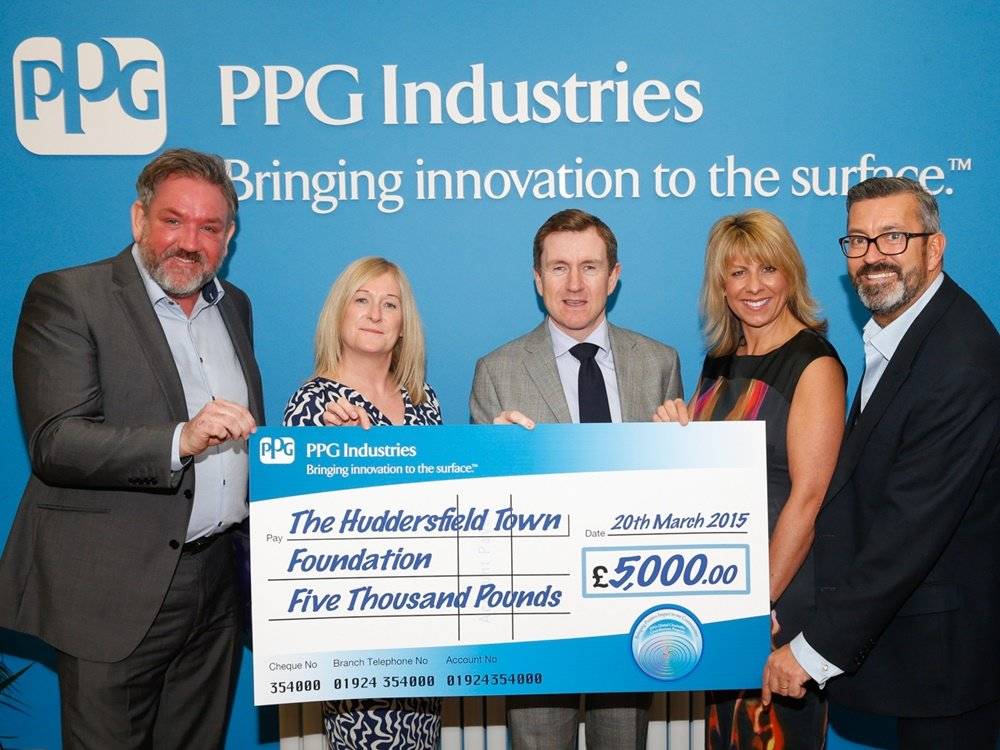 24 Mar

Ppg Makes £5k Donation

Multinational firm PPG Industries has today made a donation of £5,000 to the Town Foundation; the official registered charity of Huddersfield Town.  

The charity's remit is to improve the lives of children and young people in the local community and it will now put this generous donation towards projects such as the hugely successful 'Early Kick-Off' breakfast club initiative; click HERE for more information. 

To thank PPG Industries for its donation, Town Foundation Trustees Dean Hoyle and Sean Jarvis, alongside the charity's Fundraising Manager Mandy Taylor, visited the company's base in Birstall to thank PPG Director Jason Metcalfe and Communications Manager Veronica Horsfall.  

Veronica Horsfall, PPG's Communications Manager, said:  

"We are delighted to be supporting our partner's 'Early Kick-Off' breakfast clubs with a grant from PPG's Global Charitable Contributions Fund, the objectives of which is to enhance the quality of life in those communities where PPG Industries has a major presence throughout the world.  

"Providing local children with a healthy, nutritious start to the school day is aiding concentration, learning and behaviour in children and is have a positive impact on attainment, attendance, punctuality and sickness absence rates. Improving quality of life and placing a smile on the faces of children and young people in our region is something which is very important to PPG." 

The Town Foundation's Fundraising Manager Mandy Taylor added: 

"On behalf of the Town Foundation, I would like to thank PPG Industries for its incredibly generous donation. 

"Donations, such as this one, allows the charity to undertake its work and improve the lives of youngsters in our area; an incredibly worthwhile cause. 

"We now serve up to 1,000 healthy breakfasts to local children every day through the 'Early Kick-Off' project and this money will help that continue." 

If you are involved in a business and would like to get involved with the Town Foundation, there are several packages on offer tailored to your need. For full info, click HERE!