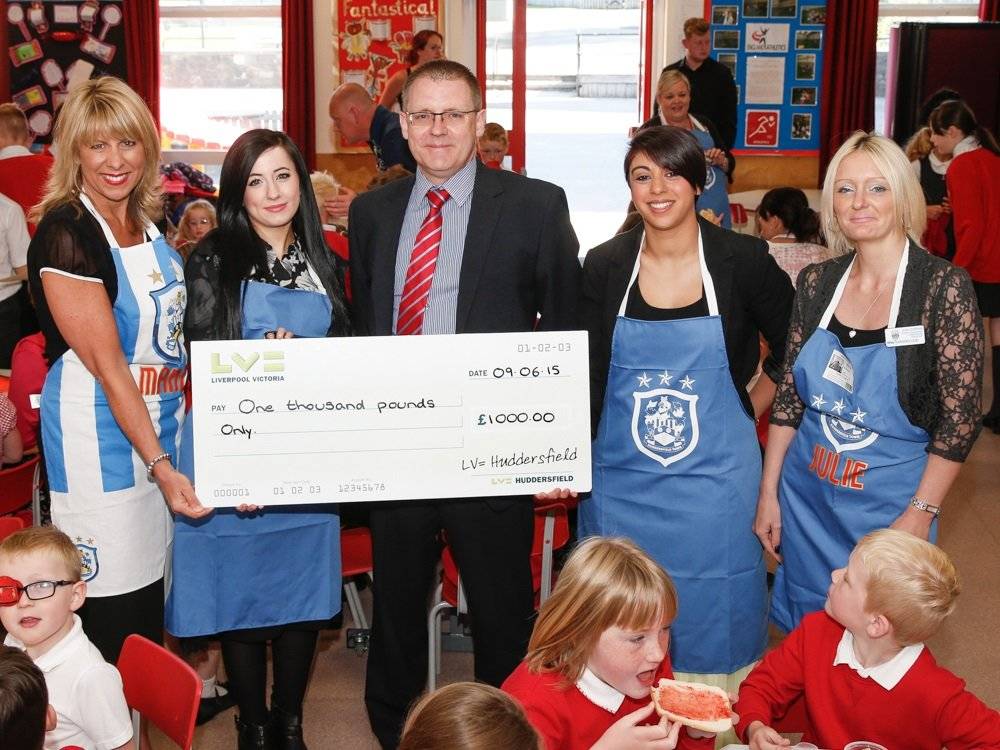 10 Jun

Latest Breakfast Club Launched At Hightown

The Town Foundation – the official registered charity of Huddersfield Town – expanded its highly successful 'Early Kick-Off' breakfast club project to Hightown J, I & N School on Tuesday morning. 

Over 80 pupils attended the 'Early Kick-Off' breakfast club, which has become the 17th now operating in schools across our area serving up to 1,000 free, healthy and nutritious breakfasts every morning to ensure the children are fully prepared for their day. 

Town's Club Ambassador Andy Booth was one of the many volunteers in attendance on the morning of the launch, which is made possible by generous donations from individuals and businesses alike. 

One such donation is from Huddersfield-based LV= Britannia Rescue; the company has donated £1,000 towards the project to help fund the food and equipment needed to make the breakfast club possible. May Ramadan and Sophie Miles from LV= Britannia Rescue visited the new breakfast club to hand over the donation; they are pictured above with the Town Foundation's Mandy Taylor and Headteacher Russell Ingleby. 

Stacey Chapman, LV= Britannia Rescue's Sales & Service Regional Manager, explained: 

"We're passionate about making a positive impact in our local community, so we're proud to support the Town Foundation and its 'Early Kick-Off' Breakfast Clubs project.  

"It's a sad fact but due to hectic lifestyles, many children attend school without anything to eat and for just 50p, these clubs can give up to 1,000 children per day a healthy nutritional breakfast.  

"One of our strongest values at LV= is to treat people like family so we know that our contribution will have a significant impact on the young people of Huddersfield." 

Hightown's Headteacher, Russell Ingleby, added: 

"Ensuring children get the best start in life is at the heart of what we do here at Hightown. Working in partnership with the Town Foundation and the Early Kick-Off Breakfast Club scheme will ensure that we can give every child a healthy, nutritious and fun start to each and every day." 

The Town Foundation's Mandy Taylor commented: 

"It is brilliant to partner with such a progressive school that also has a very proactive Headteacher with great vision.  

"The school did historically run a breakfast club, however it was struggling to ensure that every child that really needed a breakfast could attend daily. By offering the club completely free of charge, they can now be certain that all children will be able to benefit." 

The charity was officially launched in July 2012 to help benefit youngsters across the community.  If you want to get involved with the Town Foundation, please email Mandy on mandy.taylor@htafc.com or call 01484 468205.