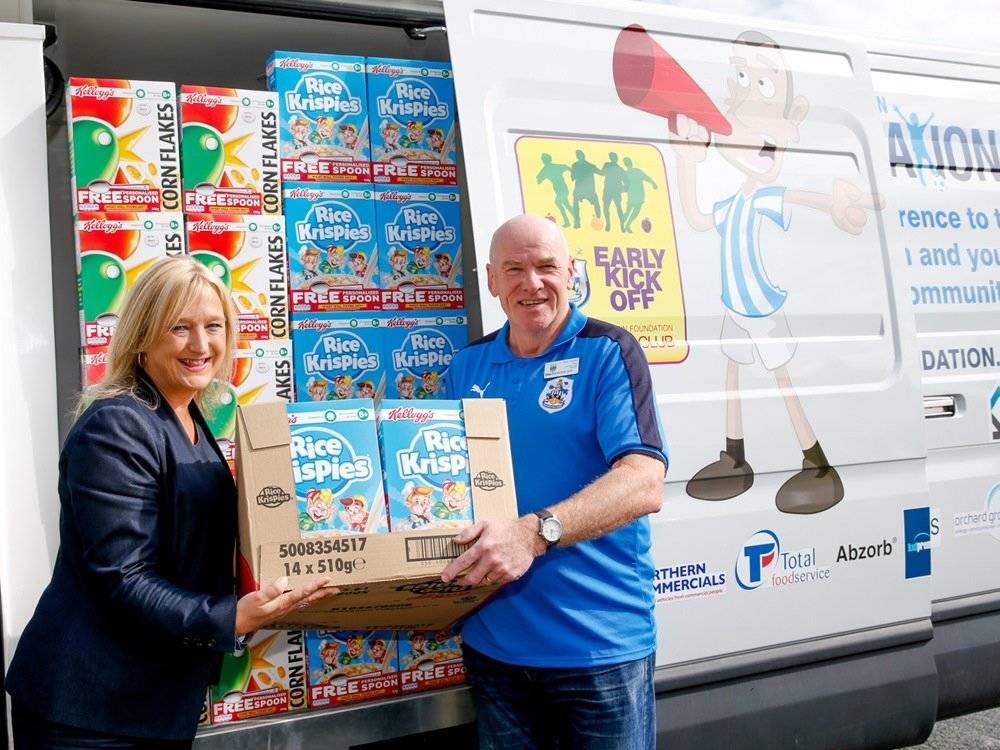 30 Jul

Summer Breakfast Clubs

The Town Foundation – the official charity of Huddersfield Town – is extending its successful breakfast club scheme into the summer months for the very first time! 

Over the course of the 2014/15 school year, the 'Early Kick-Off' project has served over 130,000 breakfasts across 17 clubs in the region to help local youngsters start their learning day in the right way – with a healthy and nutritious meal!  In partnership with Kirklees Neighbourhood Housing and the Kirklees Federation of Tenants and Residents Associations (KFTRA), the charity is now supporting four school holiday Breakfast Clubs in the local community.  

Staff from the charity and its partners are pictured above at Highlands Community Centre in Almondbury; one of the four summer breakfast clubs in operation. 

The Town Foundation's Fundraising Manager Mandy Taylor explained: 

"We are hugely thankful to our food suppliers Total Foodservice for kindly continuing to store and supply all our breakfast club food at cost and for the pledge to support this new scheme.  

"In addition, the charity has just received a complimentary delivery of free Kellogg's Cereals after local MP and Foundation Friend Jason McCartney championed our work whilst in London recently.  

"It was always the charity's intention to extend reach to the community during the school holidays and I feel certain that, should the scheme prove to be successful, we may be able to develop and grow this.  

"Looking back to 2012 when the first term-time Breakfast Club was launched with only 30 children, little could we imagine that we would now be providing a free breakfast to over 1,000 children every day."  

Bev Taylor, a Fieldworker for KFTRA, quoted:Â 

"I support local groups to carry out activities that support their communities. At this moment in time, I cannot predict how many children will come through our doors, but according to national research one in eight children do not get enough to eat in the school holidays.  

"To be able to offer a complimentary service to the families really does help. The breakfast clubs will not only feed children and give them somewhere to meet up with their peers, but will also provide a safe haven, a lively and happy environment and an opportunity for the children to mix and engage during such a long break." 

If you want to help the Town Foundation, find out how to make a donation – click HERE.