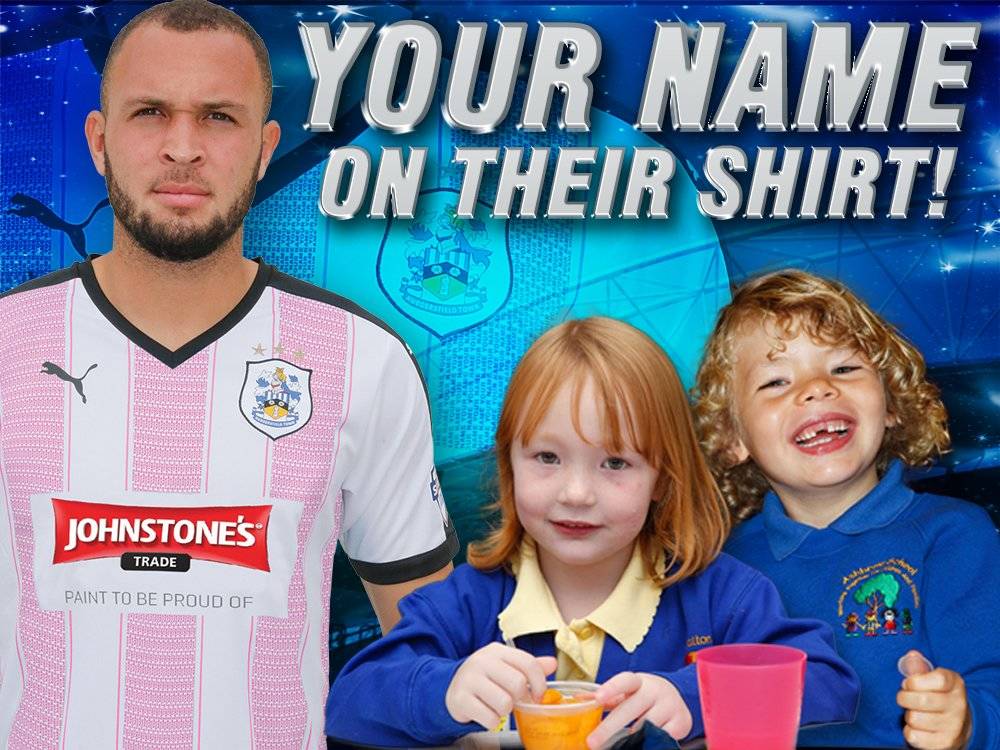 21 Aug

Your Name On Their Shirt!

Huddersfield Town's First Team players will wear a special one-off shirt in aid of the Town Foundation in April 2015 – and it can feature your name! 

Launched on Friday 21 August, Huddersfield Town fans have until 14 September 2015 to get order their name sublimated on the special one-off shirt that the First Team players will wear when they take on Birmingham City at the John Smith's Stadium on Saturday 23 April 2016. 

It will cost supporters £10 each to get their name on the shirt (a maximum of 24 characters), with the names of supporters making up the vertical magenta stripe on the magenta and white striped shirts!  

There is also a special offer for businesses; please contact the Fundraising Team on 01484 468205 for further information.

Each name will be feature at least once (up to a maximum three times, subject to demand). A mock-up of what the shirt will look like is being modelled above by Town Foundation ambassador Joel Lynch (please note the photo is for illustrative purposes only and is subject to change). 

This special shirt will feature the logo of Johnstone's Paint, one of the brands of sponsor PPG Architectural Coatings UK Ltd, with the logos of sponsor Northern Commercials and the Town Foundation logo on the back. 

Supporters who pay £10 to get their name on the shirt will have the chance to pre-order one of the limited edition replica shirts, with any remaining from the limited edition run being made available in the Stadium Superstore upon delivery which is anticipated early April,However, Huddersfield Town would recommend you get your name on there and pre-order as soon as possible to avoid disappointment! 

Replica shirts will be priced at £40 for adult sizes and £32 for juniors. 

Please note that the special Town Foundation shirt is NOT the Club's 2015/16 third kit; this will be launched separately in October. 

Huddersfield Town Chairman and Town Foundation Founder Dean Hoyle explained:Â 

"This is a first for the Club during my Chairmanship and something that I'm very excited to offer as a unique opportunity for Town fans. 

"So many fans get printing on their replica kit featuring their favourite player's name. Well, now you have the chance to get the players to wear yours! 

"There is limited availability for this offer, so I'd strongly urge our fans to quickly buy their place. 

"Hopefully everyone will have great pride when the players run out in the shirt to face Birmingham City in 2016. Not only will it be a special day for the fans whose name is adorned on the players' shirts, but it promises to raise great funds to allow the Town Foundation to continue its priceless work with young people and children in our community. 

"I would also like to thank the team at PPG for its support of this initiative; without it, this unique opportunity for supporters would not be possible." 

Steve Pocock, General Manager of PPG Architectural Coatings UK Ltd, added:Â 

"The Town Foundation is a fantastic initiative which does a huge amount of excellent work for young people in the local community. 

"We've been bringing colour to the beautiful game through our sponsorship of the Football League Trophy over the last ten years and I'm confident the specially designed eye-catching shirt, sponsored by Johnstone's Paint, will do that for the Town Foundation too. 

"We're really proud to be involved and play our part in supporting the Town Foundation."

Visit htafcmegastore.com now to order online!