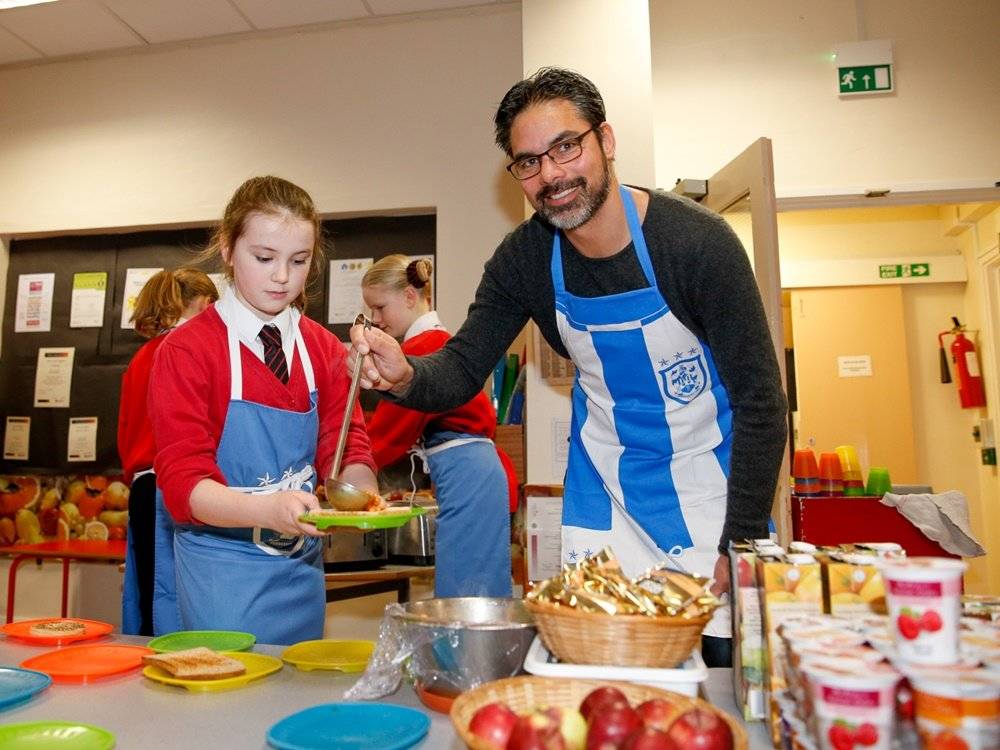 28 Jan

David Wagner 'shakes Up His Wake Up'!

The Town Foundation's support of National Breakfast Week continued on Wednesday with a visit to Hightown Junior and Infant School to raise awareness of the charity's work via its 'Early Kick-Off' project. 

Town's Head Coach David Wagner offered a willing helping hand as he sported a blue and white apron and served beans on toast to over 80 children in the school. 

Multinational firm PPG Industries, based at Birstall, made a fantastic donation of £5,000 which will ensure another 10,000 free and healthy breakfasts for youngsters who need to equip themselves for a busy day at school. 

Wagner is pictured above with PPG Sales Director Paddy Lafford on the morning. 
The Town Foundation was officially launched in July 2012 by Huddersfield Town Chairman Dean Hoyle with the remit of making a difference in the lives of children and young people in the local area. 
Mandy Taylor, the charity's Foundation Fundraising Manager, was delighted with the generous gesture by PPG Industries after they donated such a substantial sum. 
"To have the support of such a renowned brand and business backing our work in the community truly is an honour." 
Veronica Horsfall, Communications Manager for PPG Industries, spoke of her satisfaction at getting involved once again with helping such a worthy cause. 
"As a Huddersfield Town partner we are delighted to continue our support to the club's very own charity 'The Town Foundation'.
"It's staggering to learn that a recent poll by Kellogg's showed that more than eight out of ten Yorkshire based teachers see children coming into school hungry at least once a week, whilst 35 percent said they see children going hungry every day. 
"The charity is making a real difference at 18 breakfast clubs in schools close to PPG where 1,000 free healthy and nutritious breakfasts are served every morning to ensure the children are fully prepared for their day. Long may this vital work continue." 
Supporters can donate to the Town Foundation using the Just Giving page.
Check out some more images from the day at http://www.htafcfoundation.com/images-media/Â