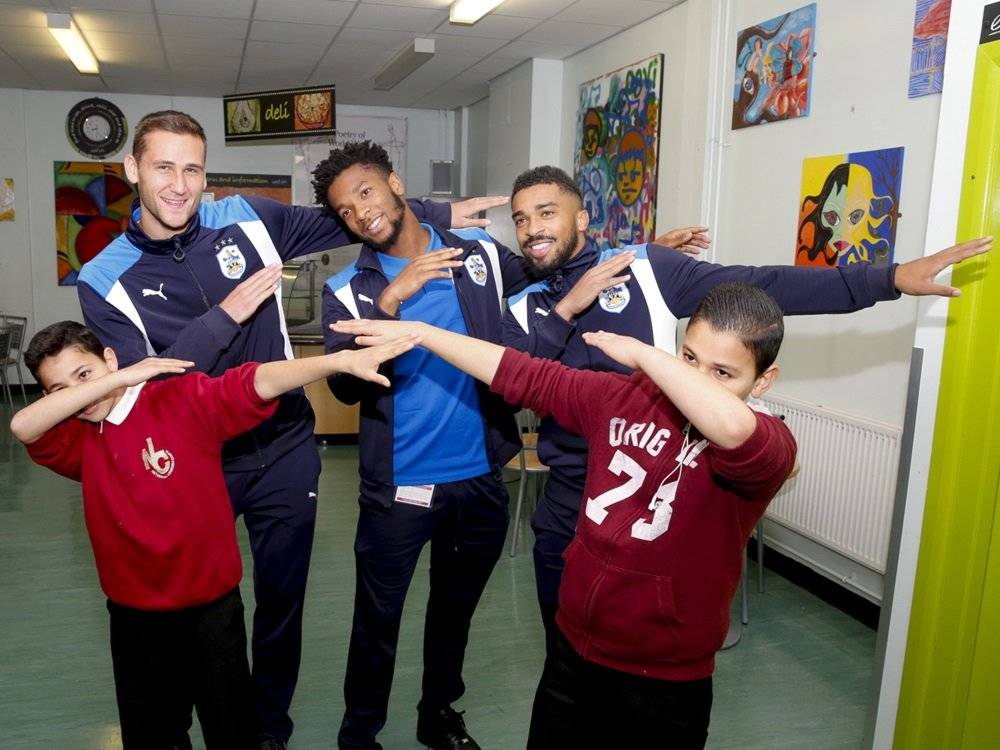 26 Oct

Two New Breakfast Clubs Open

Huddersfield Town's official registered charity – the Huddersfield Town Foundation – has expanded its incredibly successful 'Early Kick-Off' breakfast club to include both Netherhall Infants and Netherhall High School in Huddersfield.

The two Netherhall schools are the latest in the growing list of breakfast clubs organised by the Foundation, now in its fourth year of existence.

The Town Foundation has now set-up 21 breakfast clubs in the area and has expanded to give as many young people as possible a healthy start to the day. 

First Team players Kasey Palmer, Tareiq Holmes-Dennis and Ivan Paurević attended the first breakfast club at Netherhall High School after making a surprise visit. The players got themselves involved straight away talking to the children, signing autographs and indulging into a nutritious breakfast.

Katrina Cliffe from KC Communications, who is sponsoring this year's Ladies Lunch, the Town Foundation Mascot Captain Booth and his sponsor Mark Young of John Walton Machine Tools Ltd also attended the opening of thebreakfast clubs.

The healthy breakfasts will be available to pupils of both schools from 8am every school day of the year, to make sure the children start their day in the right way.

The clubs operate in schools across our local area and serve more than 1,000 free healthy and nutritious breakfasts every morning to ensure the children are fully prepared for their day. The 'Early Kick-Off' breakfast club project has now served over 500,000 breakfasts since its launch in October 2012, beating its target of serving over half a million breakfasts to youngsters.

Huddersfield Town Foundation, Julie Sheffield commented:

"It's fantastic to see that the 'Early Kick-Off' breakfast clubs keep on growing and that so many schools are interested in what we are doing.

"We are delighted to open clubs at both the Netherhall schools and hope that the children will benefit from starting their day off with a healthy, nutritious breakfast.

"It was great to see some of the First Team players involved with the opening of the Club and the children were certainly excited to see them!

"I would like to thank everyone who has made this scheme possible through their financial support and by giving up their time to come to the breakfast clubs."

If you are interested in getting involved with the 'Early Kick-Off' breakfast club project or want to get involved with the Town Foundation, please email julie.sheffield@htafc.com or call 01484 468205.