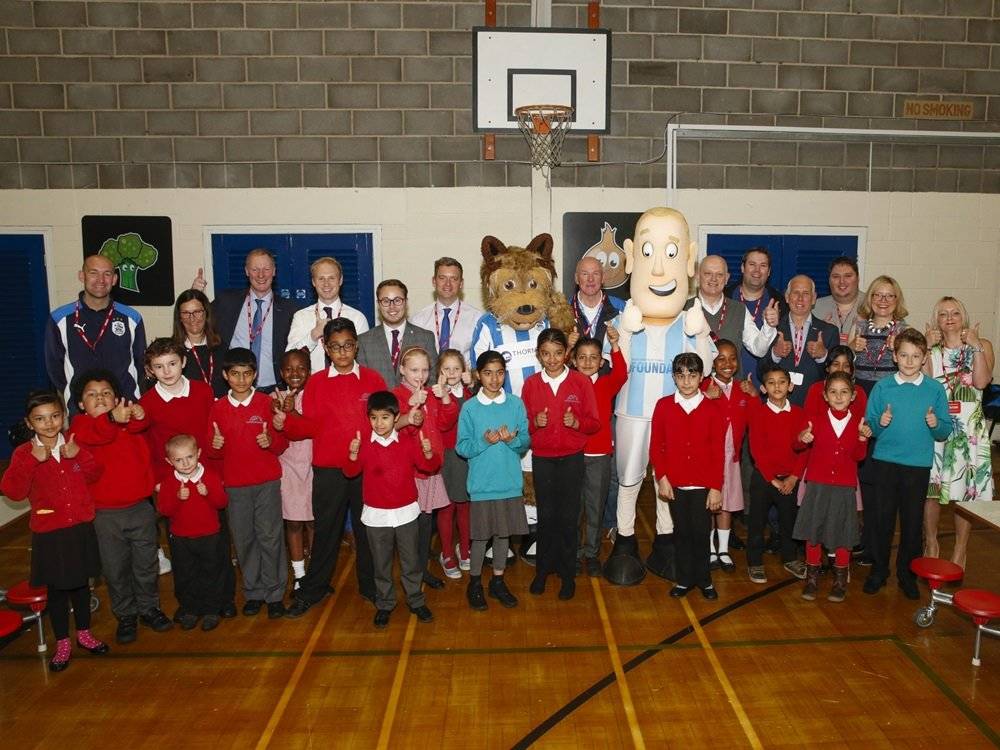 06 Jun

Breakfast Club Launched At Mount Pleasant Primary School

Huddersfield Town Foundation has opened its 23rd 'Early Kick-Off' breakfast club at Mount Pleasant Primary School as the campaign continues to expand.

Now in its fourth year of existence, the 'Early Kick-Off' breakfast clubs serve over 1,000 free and healthy breakfasts to children in the local area, providing as many young people as possible with a perfect start to the day.

Ahead of the launch, Foundation Ambassador Tom Farrell dropped off the nutritious food at Mount Pleasant Primary School, which holds 654 pupils aged between three and 11.

A number of people attended the launch alongside Julie Sheffield, the Fundraising Manager for the Town Foundation, including Huddersfield Town's Chief Executive Julian Winter, Club Ambassador Andy Booth, Foundation Head of Sport Rob Day and Trustees of the Town Foundation Janet Hoyle and Caroline Lee.

Club partners and supporters of the Foundation also came to the opening of the breakfast club; in attendance were two people from the Hirsche Town Task Team, two from Thornhill Dental, Simon Howarth from Total Food Services, Paul Radcliffe from Radcliffe Constructions and Paul Hudson from Extract Technology.

Mascots Captain Booth and Terry the Terrier also made a surprise visit to meet some of the youngsters at the school. 

Since its launch in October 2012 the 'Early Kick-Off' Breakfast Club has served over 500,000 breakfasts, beating their original target.

Huddersfield Town Foundation's Fundraising Manager, Julie Sheffield commented: 

"We are delighted to open our 23rd breakfast club at Mount Pleasant and it's fantastic to see the 'Early Kick-Off' breakfast scheme continuing to grow.

"One of our aims is to make a difference in our local community and this is another example of us doing that.

"Now the breakfast club has been launched, Mount Pleasant will be able to offer around 90 children a healthy start to the day instead of just 40.

"The support we have received from staff members at Huddersfield Town and club partners this year has been really special and I'd like to thank everyone to attended for giving up their time.

"I hope that we can continue this growth and expand to even more schools in the local area in the near future." 

If you are interested in getting involved with the 'Early Kick-Off' breakfast club project or want to get involved with the Town Foundation, please email Julie on julie.sheffield@htafc.com or call 01484 468205.