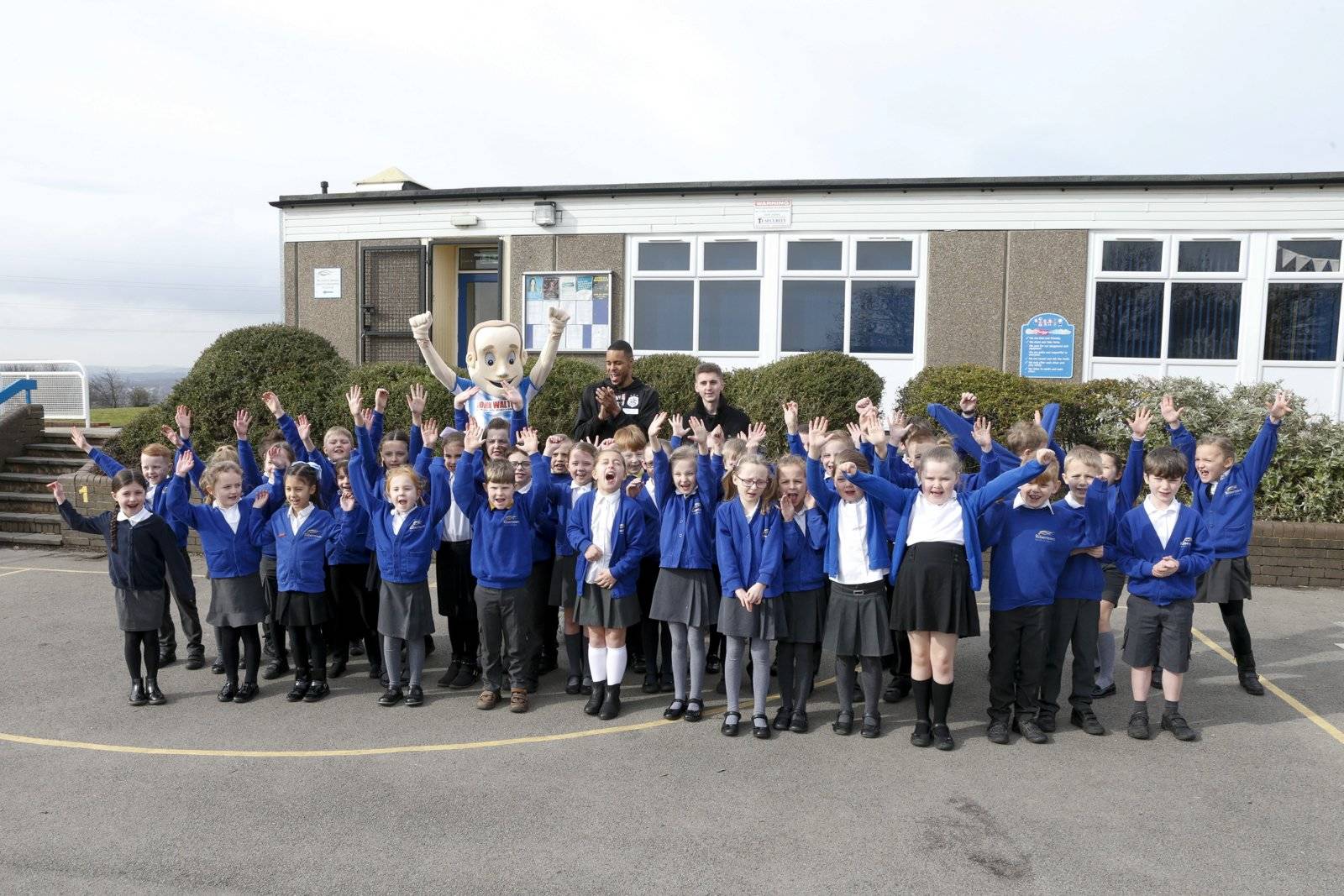 09 Apr

Big Success For The Big Chant

The winners of The Big Chant 2018 will perform pitchside at the John Smith's Stadium when Huddersfield Town face Watford in the Premier League on April 14 2018.

The competition, which is in partnership with Musica Kirklees, combined composition with football by giving pupils from schools across Kirklees the chance to learn the chants from the stands and create their own.

Pupils from Hepworth Junior and Infant School were selected as year six and overall winners with their chant dedicated to Town striker Steve Mounié.

Over 2,300 pupils from more than 50 different schools across Kirklees took part in the competition, and there were winners from each year group as well as the overall victors.

– Year Three winners – Norristhorpe Junior and Infants school

– Year Four winners – Lepton CE Junior, Infant and Nursery school

– Year Five winners – Holme Junior and Infant school

A special commendation also went to pupils from Scholes Village Primary School whose chant has been developed into an anthem for Foundation Mascot, Captain Booth.

Each year group winner will receive a visit from Captain Booth with the Championship Play-Off Final Trophy, with Hepworth also receiving a school visit from a Town First Team player. The winning chants from each year group will also be proudly displayed on the clap banner at the Watford game.

The aim of the project was to use the Football Club as a motivator to engage and inspire children within their Music lessons. The links to literacy and creative writing have been appreciated by schools with some teachers having noted considerable engagement from their pupils, particularly with boys who find motivation in literacy an issue.

Katie Suttron, Head of Education at the Town Foundation, said:

"This competition wouldn't have been possible without the input and enthusiasm of Musica Kirklees.

"I would particularly like to thank Nick Dolling for his dedication to the project and to all of the Musica staff, schools and pupils who made this project possible.

"It has been a fantastic project which has encouraged our young fans to find their voices, test their creative skills and I think we may have picked up a few new fans along the way.

"Well done to all involved and if the Town fans decide to adopt any of our winning chants then that would truly be a job well done!"

Here is the winning chant:

There was a striker

A Benin striker

Called Steven Mounié

He scores the goals

For the Terriers

The mighty Terriers…2,3,4

a Mounié, a Mounié, a Mounié,

a Mounié, a Mounié, a Mounié,

a Mounié, a Mounie, a Mounié

Watch all the attempts below on #HTTV!