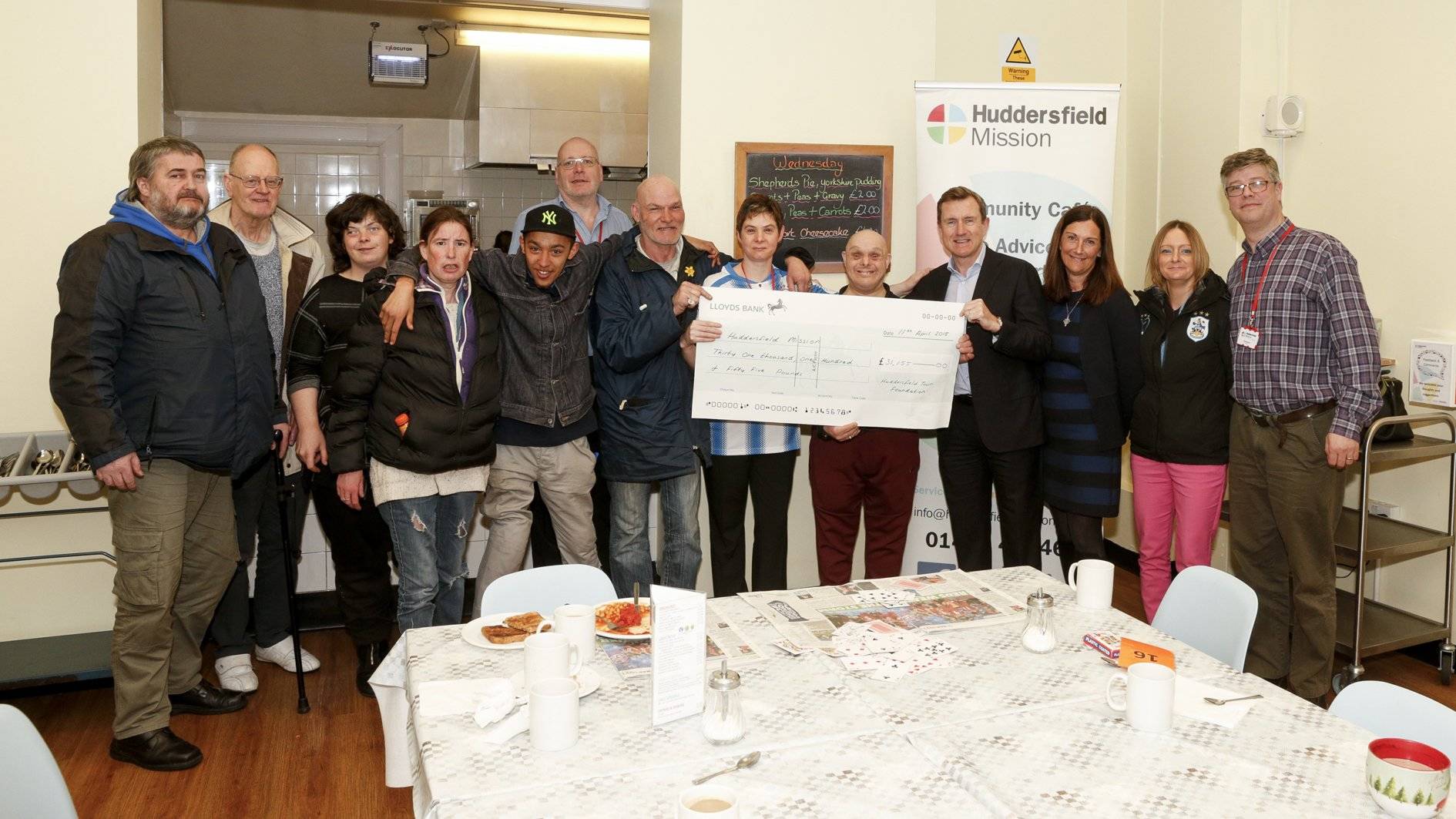 18 Apr
Huddersfield Mission Receives £31,155 From Town Foundation
Huddersfield Town Chairman Dean Hoyle and his wife Janet Hoyle presented Huddersfield Mission with their share of the funds raised from the Town Foundation's recent fundraising initiatives; amounting to £31,155.

The money will help to sustain the exceptional support the local charity provides for people who are in need and require help in the local area. Instead of just handing money across, the Charity provides an advice and support service that looks to address the root cause of the problems.
The donation from the Town Foundation will also help the Mission continue to run the affordable café it provides on Lord Street in the centre of Huddersfield, providing a nutritious main meal in a warm and friendly environment for just £2 a day.
Funds were raised from the Town Foundation's Big Sleep Out at the Stadium ahead of the Swansea City game and also from the sale of Meal Vouchers that can be exchanged for a free meal in the Charity's café.
Kayleigh Proctor from the Huddersfield Mission explained:
"Our advisors can help with a range of subjects from housing and debt to mental health and addiction, but they can also provide a listening ear.
"At the Mission we understand that people's circumstances can be complex and that we need to focus on both the immediate needs and underlying causes to achieve our goal of Serving People, Changing Lives."
Julie Sheffield from the Town Foundation added:
"On top of our work on the Big Sleepout, we're delighted that Huddersfield Town and the Town Foundation can continue to support the vital work that the Huddersfield Mission undertakes in this way.
"Huddersfield Town fans have shown their generosity again and again over the years and have seized this chance to make a huge difference to the lives of those people that need help in our community."
The Mission Meal Vouchers can be purchased in our club shops or through our online megastore https://www.htafcmegastore.com/new/new-arrivals/just-arrived/1244_Mission-Meal-Voucher.html