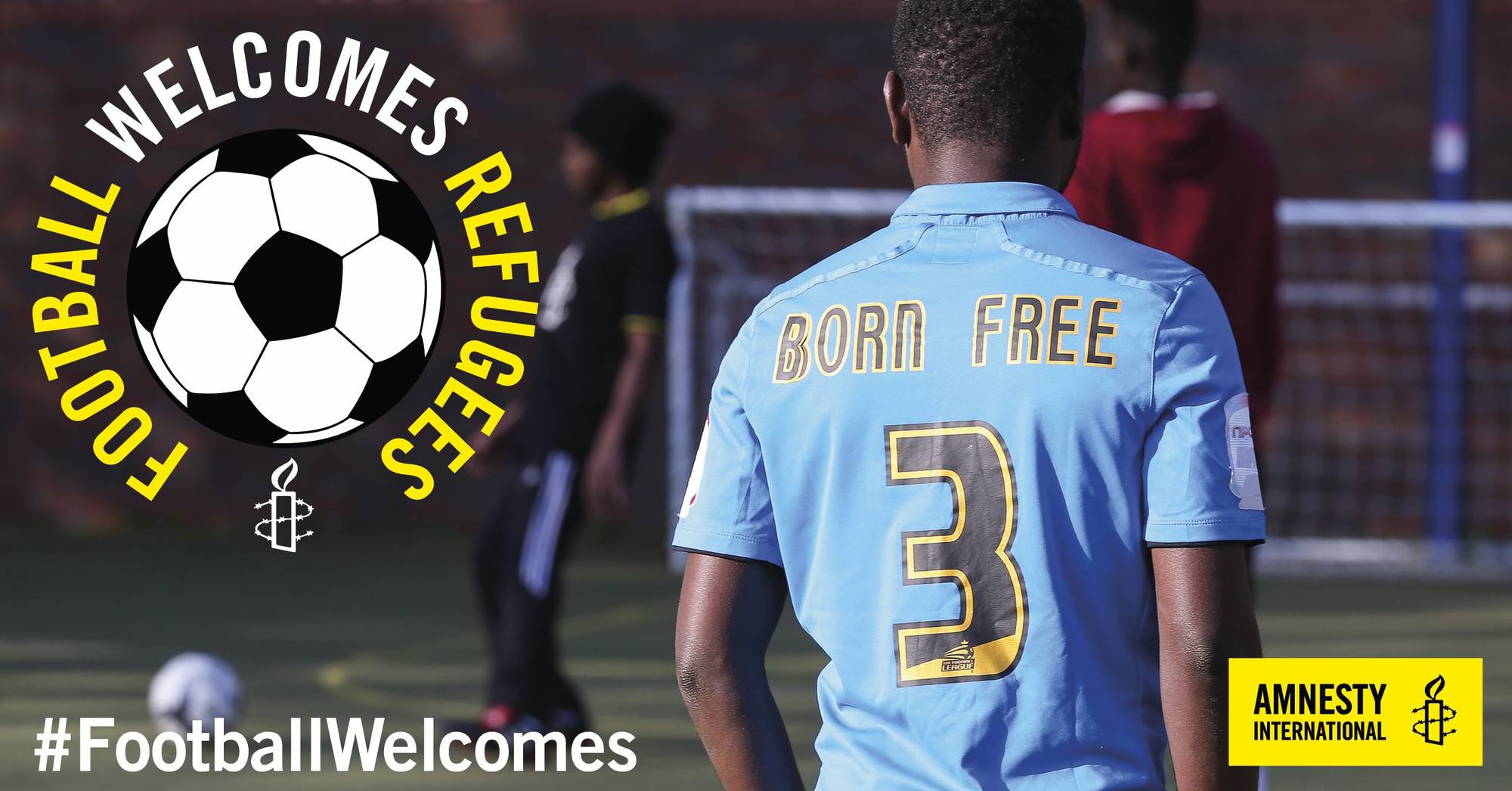 20 Apr
Town Proud To Support Amnesty International's Football Welcomes Weekend
Huddersfield Town is proud to be participating in Amnesty's Football Welcomes initiative this weekend to celebrate the contribution refugee players make to the beautiful game.
From a group of Spanish Civil War child refugees who sailed from Bilbao to safety in Southampton in May 1937 and went on to play for the Saints, Wolves and Coventry in the 1940s and 50s, to former Bolton Wanderers midfielder Fabrice Muamba whose family escaped persecution in Zaire (today's Democratic Republic of Congo) in the 90s, and the likes of Arsenal's Granit Xhaka, Stoke City's Xherdan Shaqiri and Manchester City Women's Nadia Nadim today, footballers with a refugee background have been making their mark on the most popular game in the world for decades.
For many refugee players, football helped them adjust to a new country and culture and as they and their families rebuilt their lives in safety. Supported by a range of Premier League clubs, the EFL, the FA Women's Super League, and a number of non-league and grassroots teams, Football Welcomes also highlights the role clubs can play in welcoming refugees and asylum seekers and promoting integration.
To mark Football Welcomes Huddersfield Town Foundation in partnership with and Kirklees Council will be launching their Kicks vs Youth programme on Saturday 28 April 2018 with a match day experience at Leeds Road Sports Complex, whilst also providing participant with tickets to Town's Premier League match against Everton.
The Kicks vs Youth project will work with young refugees and asylum seekers to promote integration and community cohesion and will be based at Central Stars Youth Club in Huddersfield.
Huddersfield Town is one of a number of clubs across the country running regular initiatives to support refugees and people seeking asylum to take part in sport, physical activity and community.
The Town Foundation's Head of Inclusion, Abbi Andiyapan commented:
"We are really excited to launch this partnership with Kirklees Council and develop a youth provision for young unaccompanied asylum seekers and refugees, the aim of our programme is to support these young people transition into community provision whether that be into Huddersfield Town Foundation's community programmes, or provision delivered by other community organisations.
"We believe the power of football and the club will enable us to promote integration, community cohesion and togetherness."
Carol Gilchrist Head of Communities at Kirklees Council said:
"This is a fantastic opportunity for young people to be engaged in community sport activities that contribute to good community cohesion and wellness. The council are proud to be partners with the Huddersfield Town Foundation in the excellent initiative."
Many other clubs around the country will be taking part in the Football Welcomes weekend – giving free tickets to a match for refugees and people seeking asylum living locally, arranging player visits or stadium tours, or organising a match or tournament for refugees and asylum seekers in their community programmes.
Naomi Westland, Football Welcomes Manager at Amnesty International UK, said:
"We are delighted Huddersfield Town is taking part in Football Welcomes this year. With so many clubs across the country participating, the message from football is clear – refugees are welcome in the UK. At a time when hate-filled rhetoric so often fills our newspapers and social media timelines, this shows that there is another story to be told.
"Football can give people a sense of purpose and belonging, and football clubs are at the heart of our towns and cities and have an important role to play in welcoming refugees and helping to promote respect, understanding and integration."
Football Welcomes is part of Amnesty International's I Welcome campaign for a better international response to the global refugee crisis. The campaign encourages local communities to work together to create a more welcoming environment for people fleeing conflict and persecution.
To find out more visit www.amnesty.org.uk/footballwelcomes.